Each year, Pantone keeps trend-setters on high alert for the hottest colors in design. These colors are incorporated into fashion as well as home design, but the concept of pop colors is far from new. After all, the 1950s made "colors of the year" particularly essential to daily life. The pastel shades that had once been so popular in interior decorations and appliances were now being applied to the hottest car models of the era. Today, color craze continues. Let's take a look at what color trends have looked like over the past 100 years:
1920s:
It's the Jazz Age, and people are humming about those Down Hearted Blues (as released by Bessie Smith in 1923). Nonetheless, the focus of designers was actually on a more pastel palette. Rose pink, faded yellow, shades of navy, peach, muted olive, and violet were favorites of the decade. These colors often decorated fabrics for ladies' fashion, though people also painted their homes in gorgeous muted shades with splashes of gray.
1930s:
Now this is a decade to dance about! The 1930s brought us greats like Billie Holiday and Duke Ellington, both of whom were doubtlessly moved by the sights, sounds, and all the jazz of the previous era. When it comes to home design, the vibrancy of this decade's energy was reflected in a rich palette. Rich reds, shades of goldenrod, apple green, rose, dark teal, and forest green contrasted wildly with amber-hued floors and exotic patterns. Stencils were also a popular part of room design.
1940s:
The Andrews Sisters, Chordettes, and Glenn Miller & His Orchestra kept this decade swingin' and grooving. World War II was a fading memory as the decade came to a close, but the colors of the decade included Army green, steel gray, and shades of sand. Muted colors like rose-tan, orchid, and deeper jewel tones remained popular, calling to mind visions of Hollywood glamour.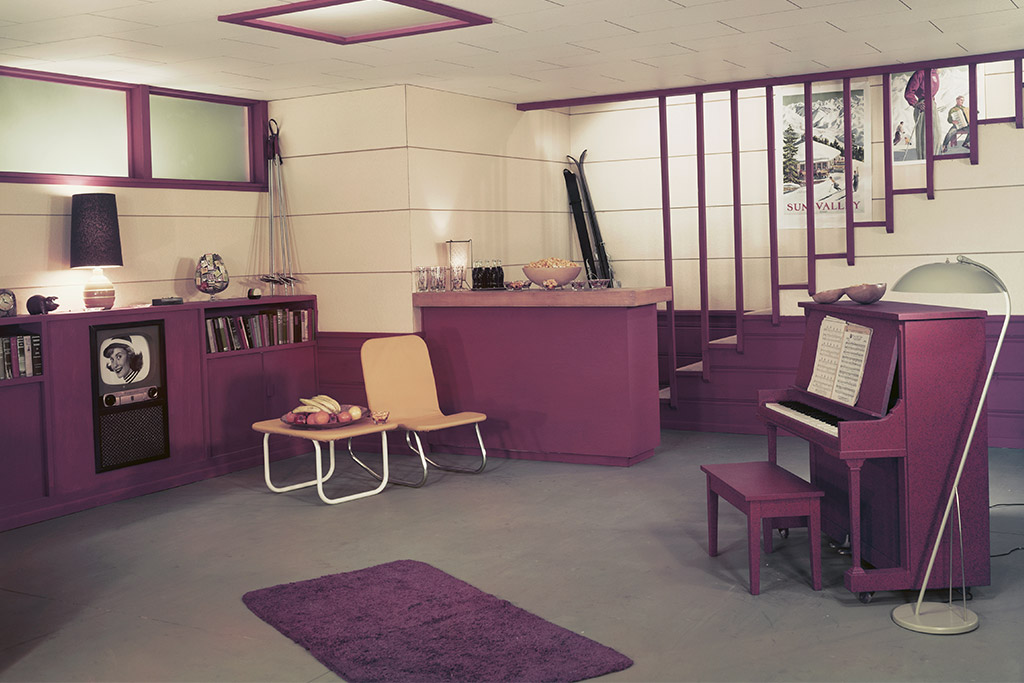 1950s:
The baby boom. Sputnik and the Space Age. Hydrogen bombs, the death of Joseph Stalin, and Alaska's admittance to the Union were on the top of mind for Americans. Rock and roll was the name of the game, and even housewives were engrossed in pop culture. Mint green, chartreuse, pearl gray, lilac (see the above image), and turquoise were the defining colors of the Fifties. Chrome, vinyl, and patterned linoleum paired perfectly with these daring shades.
1960s:
The Sixties were one psychedelic decade. The Beatles were riling up young miscreants, and The Beach Boys were conjuring up visions of vacation. In the United States, the Civil Rights Movement was taking place. Overseas, the Vietnam War was raging on, and the Cuban Missile Crisis was increasing tensions. Despite all the hullabaloo, we still managed to put a man on the moon. Conservative colors of the era hearkened back to the 1930s and 1940s, but daring designers began to brighten things up. Vivid yellows, oranges, purples, and pinks paired perfectly with eccentric pop art. Paisley and psychedelic designs added visual interest to rooms and fabrics.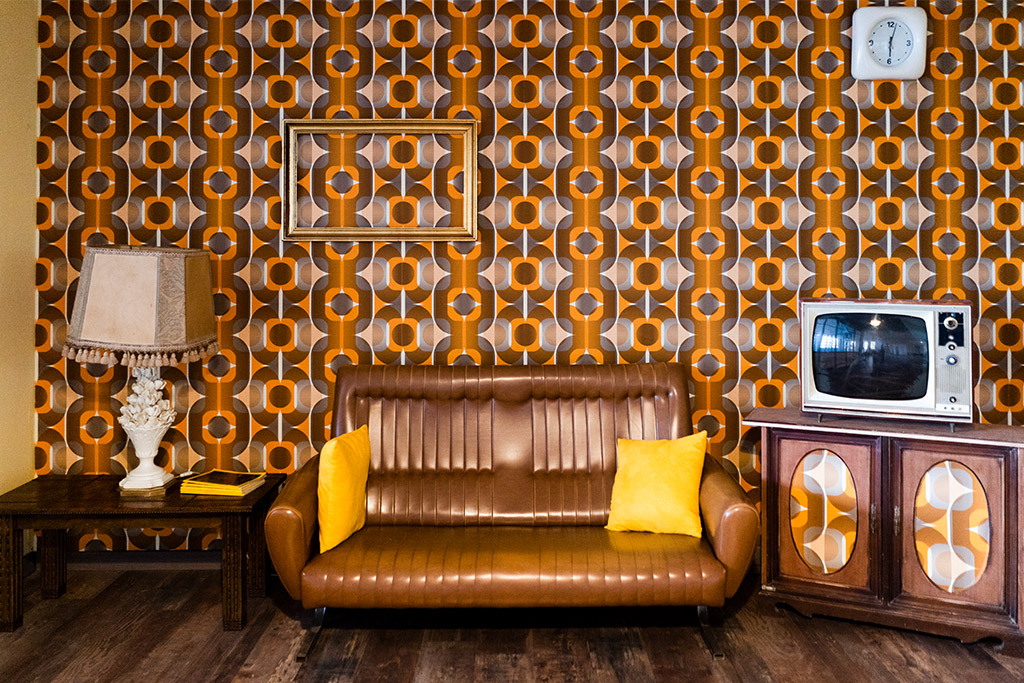 1970s:
Is this the real life? Is this just fantasy? Funky songs like Bohemian Rhapsody were at the forefront of the 1970s cultural shift. Saturday Night Fever and Grease proved that color TVs were a worthy investment, and game shows took over the airwaves. Though bold and daring, this decade turned its attention to earth tones in its decorating habits. Brown, avocado, amber, gold, orange, and brick were particularly popular in home design and fashion. Popular patterns were abstract and/or floral, playing into the earthy vibe of this eccentric decade. Shag carpeting and overstuffed leather chairs contrasted playfully with the modern lines of art and home design in this decade.
1980s:
In 1981, Americans were glued to their televisions to witness the debut of MTV. Entranced, viewers met Pat Benatar, Michael Jackson, and Madonna (who stunned viewers of the 1984 Video Music Awards). Ronald Reagan was in office throughout the decade, and the Cold War had voters alert. Return of the Jedi and E.T.: The Extra-Terrestrial captured the imagination of children and adults alike. Design colors of the decade, however, were much less aggressive than those of previous decades. Jean blue, peach, mauve, and beige decorated more modern, sophisticated spaces. Children's rooms were often draped in pastels, corals, and shades of seafoam green. Chia Pets fit perfectly amidst these colors, and so, too, did playful patterns including triangles, waves, and zigzags.
1990s:
Still reeling from the cultural ups and downs of the previous decade, designers and decorators began to draw inspiration from Tuscany. Merlot red, cider brown, beige, white, hunter green, and tan-gray shades grew popular to combat the eccentricity of the previous few decades. Minimalism was common in home design, though the quirky and unusual cultural quirks of the decades trickled their way into homes. Inflatable furniture, sponge paint, and, eventually, primary colors seeped into design. In culture, grunge became popular with fashionistas, and events Bill Clinton's saxophone session on the Arsenio Hall Show led to a cultural expectation of quirkiness. In the world of music, unusual acts like Nine Inch Nails, Sublime, Nirvana, and the Backstreet Boys proved that diversity would be dominating the air waves in the coming years.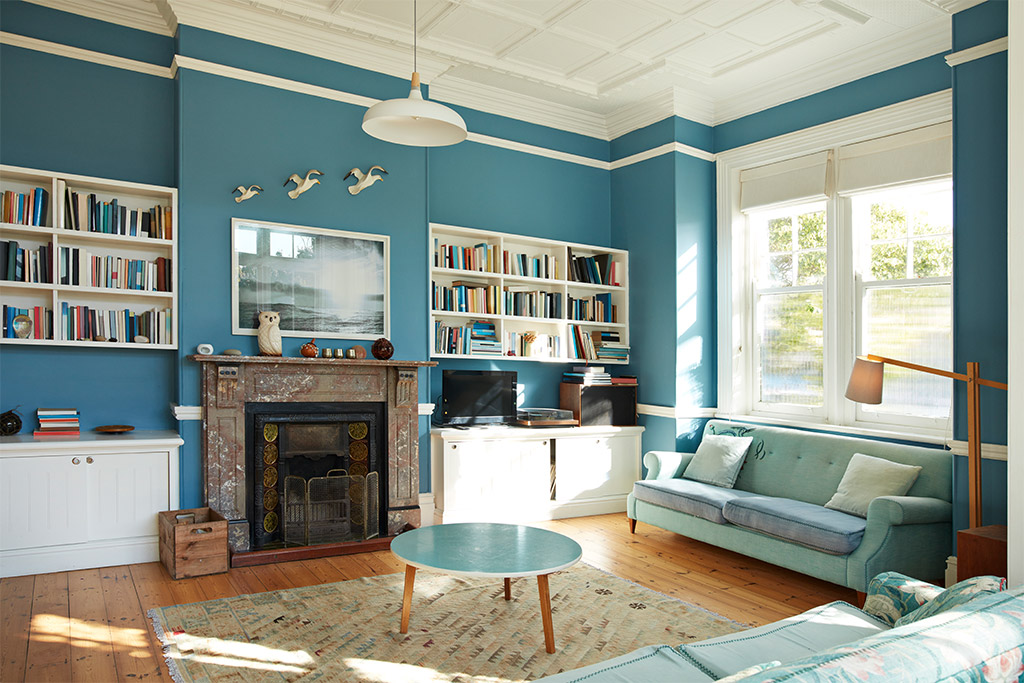 2000s:
Beyoncé, Lady Gaga, Eminem, Nickelback, and Britney Spears ushered in the 2000s with a flair for the dramatic. In the political and financial realms, this era was shocking. Terrorist attacks on September 11, 2001 captivated and shocked an entire world. The subsequent war on terror, a stock market crash, and the housing crisis left an entire world on edge. The average person understandably craved a vacation from reality, and this was done through the incorporation of beach-inspired colors. Sand, latte, white, and a number of blues became popular in home design. Youth craved the same vividness previous generations had enjoyed, which led to the incorporation of Nickelodeon orange, toxic green, and hot pink. Entertainment centers, stainless steel appliances, and futuristic designs made their way into the everyday home.
2010s:
As the world recovered from the so-called Great Recession, optimism reached a new height. In home design, however, modern shades of gray grew all the more popular. This also led to a more subdued yet rich palette, including olive green, mustard yellow, and burgundy. Aging in place grew in popularity, allowing Baby Boomers and other generations the opportunity to enhance their homes with modern solutions like stair lifts. Super hero movies, remakes, and sequels of nostalgic media dominated the big screen throughout the decade. This dreamy decade continued to incorporate pop art,  pseudorealism, and street art into interior design.
As the 2020s take off, one thing is for sure: interior design will continue to evolve in an unpredictable way. Trends come and go, so it will be fascinating to see which trends designers will choose to revisit. Which decade of design do you consider to be most iconic?
Want to reinvent your space, but not sure where to start? There are endless benefits in hiring an interior designer!