In any company, there are several movement parts that contribute to overall success. Here at Leaf Home Solutions, we have many different departments… but one that is always quietly operating behind the scenes is the IT team. This quickly-growing group has responded to the company's own growth in a proactive way, and their initiatives support LeafFilter and Leaf Home Safety Solutions in a huge way. We sat down with Chris Brocato, Director Of Information Technology, to discuss this incredible team.
Application Development:
Mike Barker | Application Solutions Manager
Erik Summers Jr. | Database Analyst
Darren Lage | Application Developer
Andy Rhodes| Application Developer
Support Services:
Brad Brooks | Support Services Manager
Elliott Blair | Sr. Support Engineer
Matt Selander | Sr. Support Engineer
Tyler Brocato | Support Engineer
Network Infrastructure:
Charles Robinson | Network Infrastructure Manager
Bill Koppes | Sr. Systems Engineer
Stathi Papandropoulos | Systems Engineer
Information Security:
Todd Eldredge | Information Security Manager
LeafFilter: Tell me about yourself. How long have you been with LeafFilter, and what got you started here?
Chris Brocato: Well, I had worked in a previous organization with Mr. Beck and a few of the other IT staff members. When they were looking for an IT Director, they threw my name in the pot. I interviewed, and I've been here for two and a half years. 
LeafFilter: Was IT something you were always passionate about? 
Chris: Realistically, I worked on sonar systems when I was in the Navy. Computer based sonar systems… I hunted submarines. This was a natural tech progression for me after getting out of the service.
LeafFilter: Wow! That's very different from what we do at LeafFilter.
Chris: (Chuckles) Yeah, but this is actually a lot more fun. With the Cold War being dead, there weren't a lot of submarines to look for. So I did a lot of painting and other types of things.
LeafFilter: So what does the LeafFilter IT team do? 
Chris: If you think about LeafFilter as a body, we're the central nervous system. All communications, your wireless phone, connecting to the internet, sending and receiving emails, your telephone ringing… all these things are systems we monitor and maintain on a 24/7 basis.
LeafFilter: And you also do a lot behind the scenes to keep the business running smoothly, too.
Chris: We do! We have our custom-built CRM, it was built primarily by Jeff, our CEO. We're the stewards of that. Our servers, work stations, communications equipment, all those components are all us.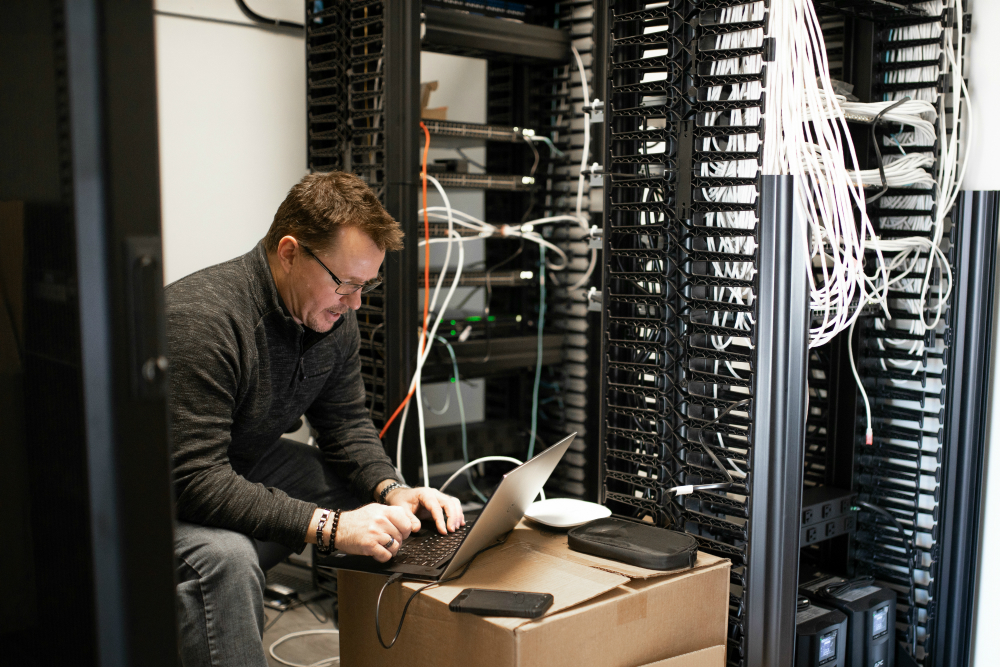 LeafFilter: Awesome! How many people are on your team?
Chris: Currently, we're up to 13. This time last year there were four of us and an intern. We've experienced some pretty amazing growth in the IT department. 
LeafFilter: And what do you think accounts for that growth?
Chris: LeafFilter's insane growth! This is the most successful and fast-moving organization that I've ever been a part of outside of the military. 
LeafFilter: What does the future look like for your team? Do you think you're going to keep growing?
Chris: I think we're still growing, with the expansion to the West Coast and our continued expansion here. We're going to get some bigger space soon, we'll fill it up.
LeafFilter: And you're already in the process of moving your data center, correct?
Chris: Correct. Currently, the existing data center is where it was born, in the 1595 Corporate Office building. With the new call center going in, we thought, "Our biggest loss of revenue is when we lose power." And we do, fairly frequently, here in Hudson. So we decided, and Jeff has helped us get the funding, to put a whole building generator on the new 1800 Call Center building. 
LeafFilter: That's great news!
Chris: Absolutely, because the people that use the CRM most frequently and for the longest length of the day are going to be in that building. It just makes sense that we take the production data center and move it in there. It gets the benefit of being closest to the people that use it the most and it's in a building with unstoppable power.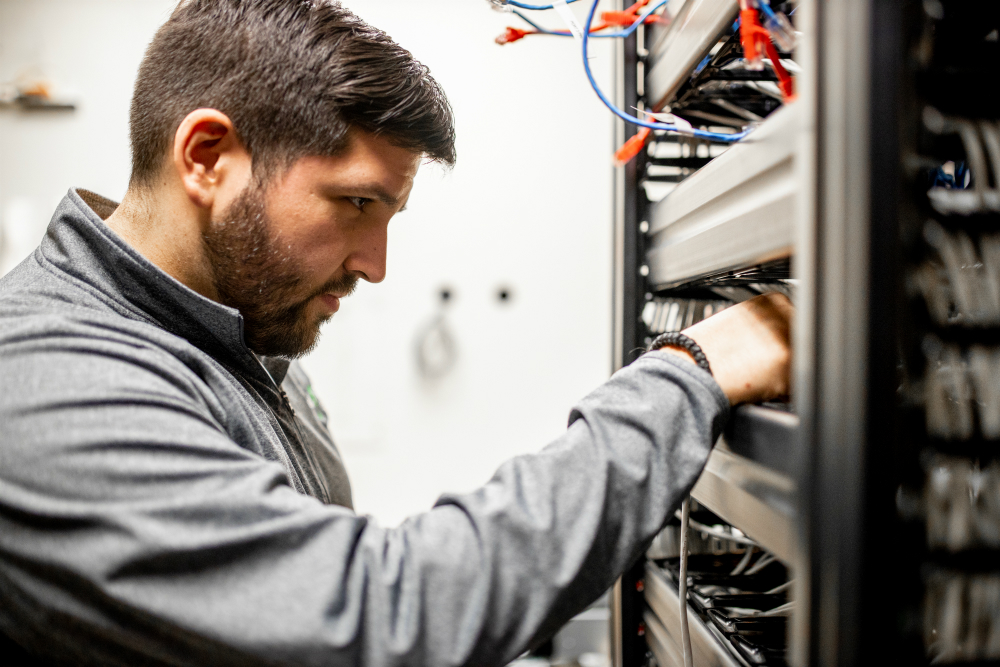 LeafFilter: So you guys really are the company's central nervous system! Is there anything else that the LeafFilter family should know about your team?
Chris: We're not just an 8 to 5 group. After hours, we're supporting all 70+ offices, anybody that comes up with an issue in the Call Center or at Corporate, we're covering 24 hours a day and every day of the week, weekends included. As we've grown, the need for us to be available and to resolve problems is a never ending business. 
LeafFilter: So that has to be something your team is very passionate about — helping others and keeping things moving smoothly. 
Chris: Absolutely! And I'm very lucky to have brought in some amazing people. We have one heck of a group. 
The Information Technology wing of Leaf Home Solutions is absolutely integral to all successes and wins throughout the company. While the future of tech is admittedly unpredictable, one thing is for sure: whatever this team does in the future, it will continue to impress and dazzle.