Winter is coming and that means you're probably ready for a getaway! This year, skip the tropics and embrace your inner Elsa by visiting one of the many winter wonderlands of America. There's a little something for everyone when you venture to a snowy destination. You'll get to soak in the peaceful beauty of winter, relax by a cozy fire, take part in holiday festivities, and even experience some exciting winter sports if you're up for it.
So what are you waiting for? Check out these 23 top winter wonderlands in America to get a jump start on your vacation plans!
Duluth, Minnesota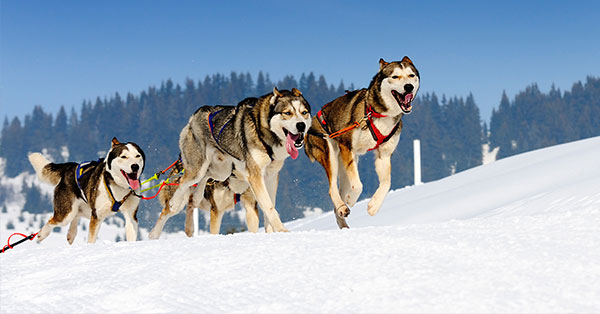 Are you an avid outdoorsman? Duluth should be on your list of must-visit destinations. Make your way to Positive Energy Outdoors to schedule fun winter activities like skijoring (where you ride skis pulled by dogs) or sleigh rides, or get your adrenaline pumping by going ice climbing! Make sure to schedule your vacation to coincide with the Beargrease Sled Dog Marathon. And, of course, don't forget to put on your parka and check out Spirit Mountain for even more exciting outdoor sports.
Framingham, Massachusetts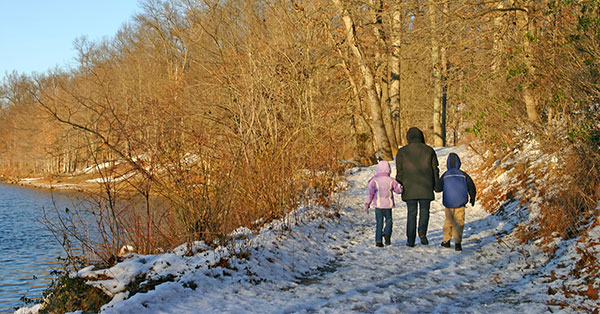 If you're looking to get back to nature this winter, book your trip to Framingham, MA. From hiking to cross-country skiing at the scenic Callahan State Park, you'll have endless opportunities to get outdoors. Those 21 and over can warm up afterwards with a locally brewed beer at Jack's Abby. If you prefer a quiet day indoors, check out the breathtaking artwork at Gallery XIV Studios or check out a show at Babson College.
Cumberland, Maryland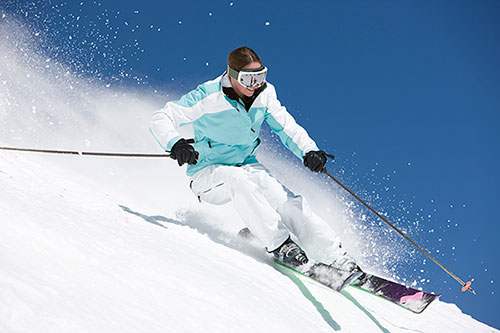 It may sound silly to suggest a rest stop as a must-see on your vacation, but trust us when we say that the gorgeous Sideling Hill Overlook & Rest Area really is a must-see (bonus points if you get there in time to watch the sun rise). Feeling a little lucky after catching that view? Stop by the Rocky Gap Casino. Then, get on the ski trails at the Great Allegheny Passage, or make your way to Maryland's only four-season resort, the Wisp Ski Resort, for year-round outdoor fun.
Charlottesville, Virginia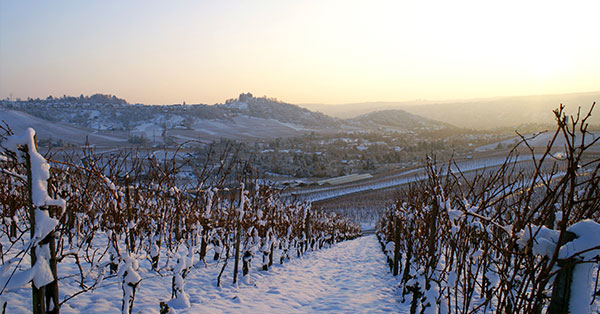 If you find yourself in Charlottesville on a snowy day, one of the country's most historic spots (it's a world heritage site!)– Thomas Jefferson's Monticello – is a great place to get snowed in for a few hours. Make your way to the University of Virginia's observatory on a clear winter's night to get an awe-inspiring view of our solar system. Or take a tour of one of the region's vineyards (we recommend Early Mountain Vineyards). Looking for something a bit more adventurous? Head to the Shenandoah National Park for some outdoor fun.
Blowing Rock, North Carolina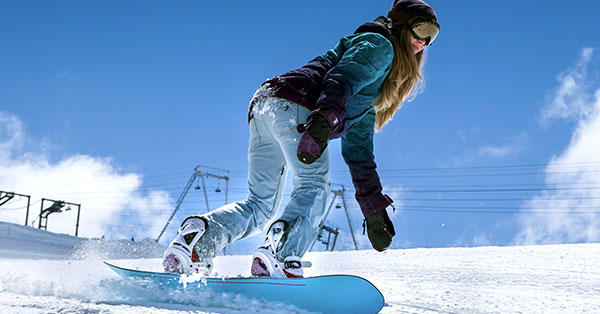 What says "Winter Wonderland" more than an annual WinterFest? Complete with Polar Plunge, ice sculpture, skiing, a cozy bonfire, decadent food, and much, much more, this town festival is by far the place to be this winter! The Appalachian Ski Mountain also provides fun for the whole family – skiing and snowboarding for the experiences, and skiwee and cruiser camp lessons for the little ones! While you're there, don't forget to visit the town's namesake – The Blowing Rock – a geological phenomenon in the Blue Ridge Mountains.
Wethersfield, Connecticut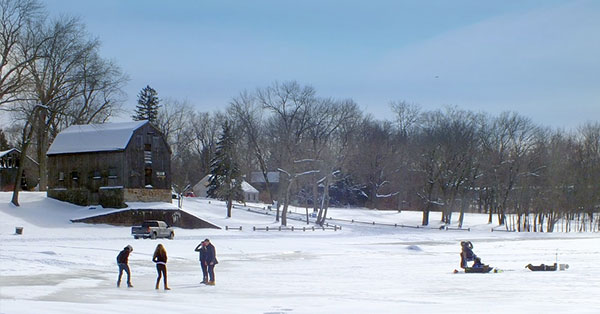 Named one of the best small cities in Connecticut in 2015 by WalletHub.com, Wethersfield can add another accolade to its growing list – one of the best winter wonderlands in the country! Soak up the town's 375 years of history in the Old Wethersfield part of town. Or, join up with Wethersfieldians for their Brisk Winter Walks for a charming small town experience. Don't forget to visit Wethersfield Cove (part of which is pictured above) to take in the beautiful nature of the town.
Waukesha, Wisconsin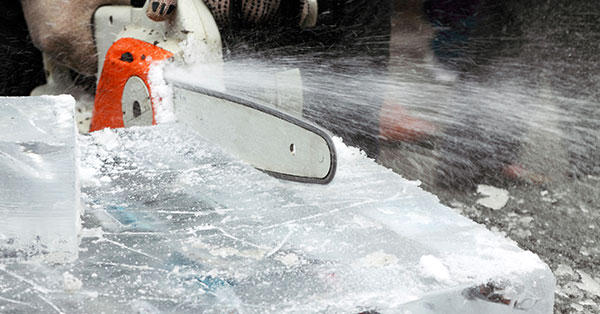 Tobogganing at Lowell Park's 350 ft. toboggan run should be on the top of your to-do list if you venture out to Waukesha, WI. Make sure to plan your trip around the JanBoree Winter Festival – a weekend jam packed with winter activities like ice sculpting, a Frosty 5K Run/Walk, ice skating, ice fishing, music, fireworks, and so much more. Then, take the chill off and get your adrenaline pumping at the Veloce Indoor Speedway.
Louisville, Kentucky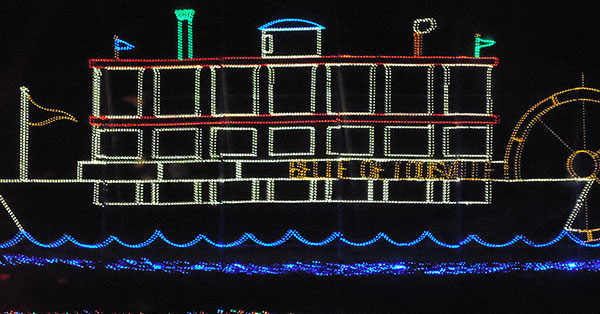 You're sure to be charmed at Christmastime in Louisville, and the opportunities for fun are truly endless. Book your stay at the Galt House Hotel for a festive getaway. Take a drive with the family through a mega cavern full of holiday lights at Lights Under Louisville. Take part in winter merriment at Holiday in the City events. Enjoy entertainment at 4th Street Live, and take refuge from the cold in one of the many dining establishments on the street. While winter is certainly the time to book your visit (in our humble opinion), you can visit most of these Louisville attractions throughout the year!
Cape May, New Jersey
Most people think of Cape May, NJ as a summer getaway (heck, we couldn't even find a photo of Cape May in the winter available for use on this blog!). But, once the beach dwellers leave for the season, Cape May turns into a slow paced, snowy winter escape (where you can actually find parking!). Enjoy Victorian décor around Christmastime at the Queen Victoria Bed and Breakfast. Sip on wine at the Cape May Winery and visit the Cape May lighthouse to get a spectacular view of the lighthouse encased in snow and ice.
Blue Ridge, Georgia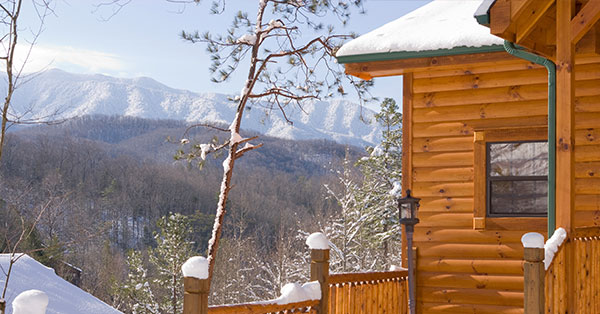 Take a step back in time in Blue Ridge, GA this winter. Board a train on the Blue Ridge Scenic Railway (they even have a Polar Express-like ride, called the Santa Express, around Christmastime!). Make sure to visit Huck's General Store for all your shopping needs. Warm up with some spicy chili while you check out ice sculptures at the annual Fire and Ice Chili Cook-Off. Depending on what you're looking for, you can book yourself a secluded hideaway at the Georgia Mountain Cabins or cozy up at the spa at Serenity in the Mountains.
Marquette, Michigan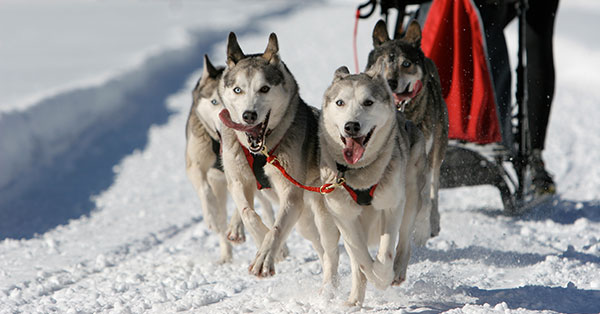 There's nothing quite like the view of Lake [Erie/Superior] in the winter. It's both terrifying and spectacularly beautiful at the same time, and if you don't view it at least once in your life, you're missing out – so get to Marquette this winter! If that wasn't enough to persuade you, you'll have your pick of winter activities like skiing at Marquette Mountain, taking ice cave tours with Marquette Recreational Tours, and checking out the Marquette Maritime Museum and Lighthouse. Also, don't miss the UP200 Sled Dog Race and the Noquemanon Ski Race!
Strongsville, Ohio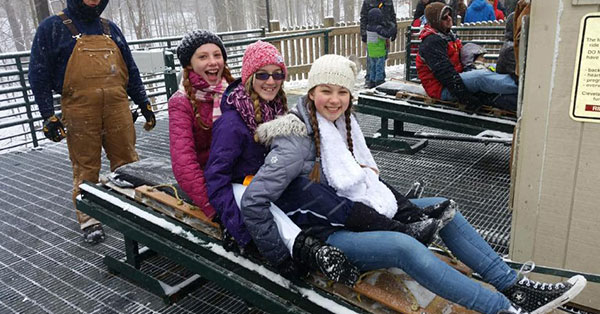 Nestled in the heart of Strongsville, you'll find the Mill Stream Run toboggan chutes. Featuring two over-700-foot-long chutes which clock in at about 50 mph, you'll certainly get your thrills here! Take a break in the cozy chalet or stroll through the surrounding Cleveland Metroparks. For a different winter experience, strap on some skates and get out on the rink at Ice Land USA. Those of legal drinking age can (and should!) get snowed in at the Brew Kettle, where they can try some tasty adult beverages or brew their very own beer.
Stuck cleaning gutters and don't have time to take a vacation? Check out LeafFilter for a permanent solution!
[lf_ad campaign="reviews"]
Wheeling, West Virginia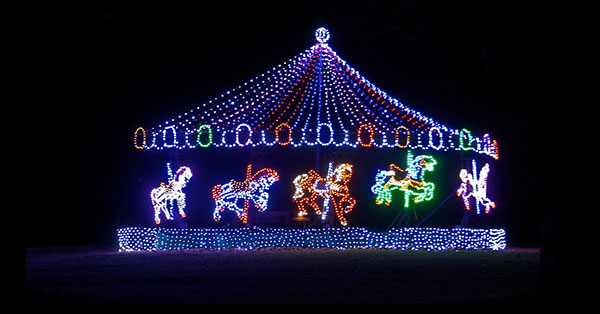 The Winter Festival of Lights celebration at Oglebay Resort is a can't-miss event. A stay at Oglebay is also the perfect opportunity to check out their stained glass museum, zoo, and environmental center, or to go skiing, horseback riding, or snowboarding. Also in Wheeling is the Memorial Skating Rink where you can catch a pickup game of hockey or practice your figure eights. Another can't miss opportunity is to go see a show performed by the Wheeling Symphony Orchestra.
Presque Isle, Pennsylvania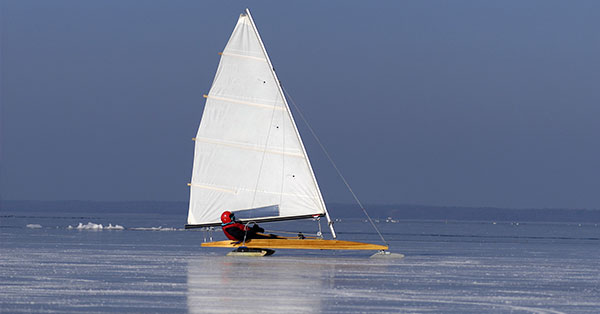 Presque Isle is not just for gambling at the Presque Isle Downs and Casino. If you're looking for a unique winter experience, try ice boating with the Erie Yacht Club. And, although the lighthouses of Presque Isle are closed from Labor Day to Memorial Day, you can spend some time exploring them during the Christmas at the Lighthouse event (so make sure to time your trip right!). Oh, and don't forget wind skating on Lake Erie!
Frankenmuth, Michigan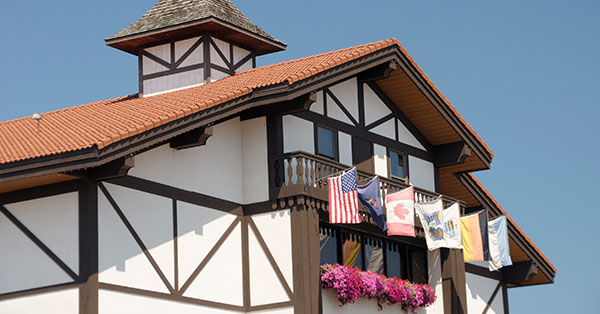 Frankenmuth is packed with things to do year round, but winter is a truly magical time in this Bavarian village. You can enjoy snow sculpting (the most sophisticated form of building a snowman!) at Zehnder's Snowfest, or visit Bronner's Christmas Wonderland for all your Christmas decorating needs. You can't go wrong with a horse drawn carriage ride around the fairytale-esque town. Oh, and if you're yearning for summer in the midst of this winter wonderland, you can hit the indoor water slides at Zehnder's, too!
Gatlinburg, Tennessee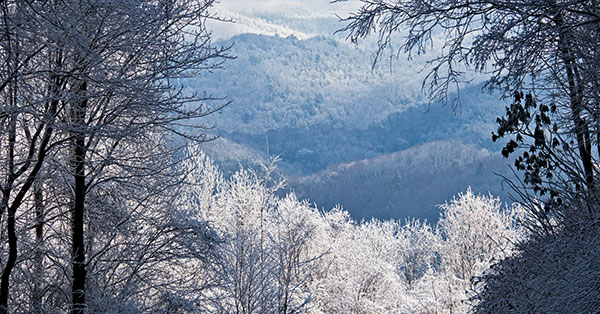 Have you ever felt the thrill of going down a mountain in a rollercoaster? No? Then it's time to give it a whirl on the ski mountain coaster at Ober Gatlinburg. If you plan your trip just right, you can fill your belly with homemade chili at the Gatlinburg Winter Magic and Chili Cook-Off, and catch a ride on the Trolley Ride of Lights, too! Book your stay at the Elk Springs Resort for a breathtaking view of the mountains.
Woodstock, Vermont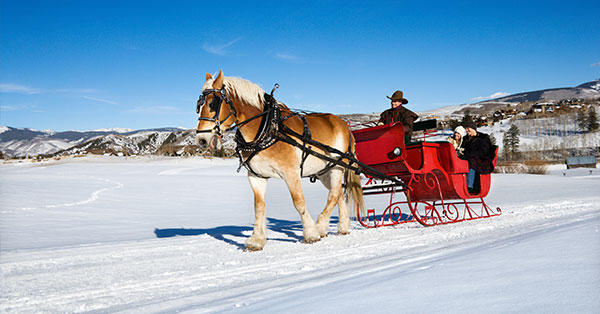 Get a charming New England winter experience at Woodstock (it's seriously like taking a step back in time – check out the FH Gillingham & Sons General Store to see what we mean!). Taking a horse-drawn sleigh ride at the scenic Billings Farm with the one you love is an unforgettable experience, but taking a more humane snowcat-drawn sleigh ride isn't an experience you're likely to find anywhere else. Little ones will love the Vermont Toy & Train Museum. Book your stay at the picturesque Woodstock Inn & Resort for an experience your whole family will love.
Estes Park, Colorado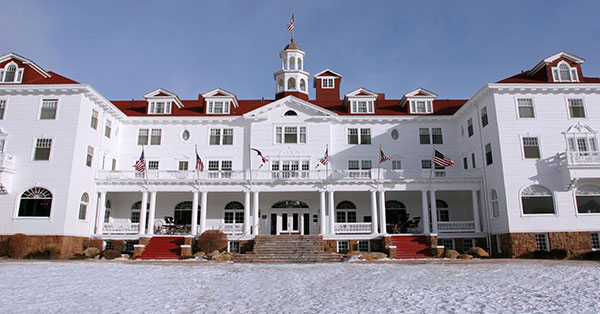 The town best known as the inspiration for Stephen King's The Shining is not all that scary. In fact, getting snowed in during the winter in Estes Park can be downright lovely. Visit during the Estes Park Winter Festival & Winter Trails Day, and you'll certainly see what we mean. Confront your fears at The Stanley Hotel and enjoy snowshoeing around the enchanting snow-covered grounds. Catch the Winter Wonderland National Park Photo Tour with Rocky Mountain Rush for the opportunity to capture some stunning scenes for your photo album. You might even catch sight of the diverse local wildlife. We guarantee you'll want to come back year after year at the first hint of winter.
Spearfish Canyon, South Dakota
Are you ready to hope on a snowmobile? Well, it's time to get to Spearfish Canyon where you'll have over 350 miles of trails to explore. Or, kick back and take a load off by the fireplace at the Spearfish Canyon Lodge. In the surrounding area, you can see historical monuments like Devils Tower, which you'll find at Black Hills National Forest, and Mount Rushmore. You can partake in fun outdoor activities like snowshoeing and fatbiking (which is just riding a bike with oversized tires), not to mention soaking in the sights of the canyon itself. This winter wonderland will bring you the ultimate sense of peace.
Williams, Arizona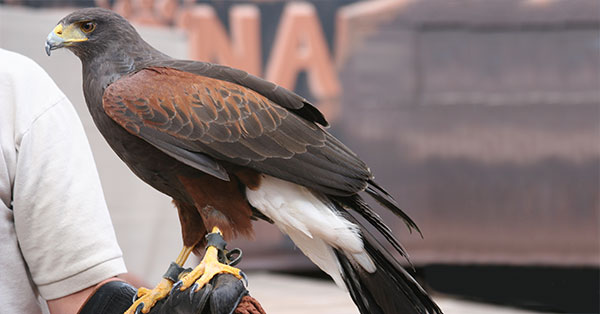 Don't limit your Grand Canyon excursion to the dreadfully hot months of summer vacation. Williams, AZ is also a beautiful winter getaway (they actually get more snow than the nationwide average). Take a ride on Grand Canyon Railway's The North Pole Experience or cuddle up with your sweetheart and sip some wine during the railway's Valentine's Day special experience. The entire family can get back to nature by taking a trek through the Bearizona State Park.
Park City, Utah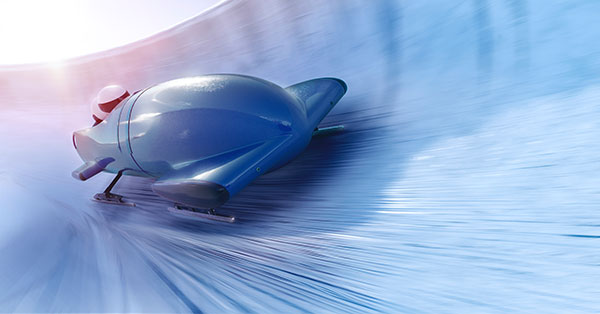 With an annual average of over 400 inches of snow, Park City may just be the ultimate winter wonderland. In 2002, the Winter Olympics were held not too far away in Salt Lake City. To this day, visitors of Park City can have a once-in-a-lifetime experience riding down the original Olympics bobsled track on the Comet Bobsled Rides. If you're seeking a more slow-paced adventure, you can check out the Ontario Mine – an abandoned silver mine. Or, 20 minutes outside of Park City, visitors will find the Hot Springs Cave, a fascinating geothermal spring that stays at a constant 90-96°F.
Mauna Kea, Hawaii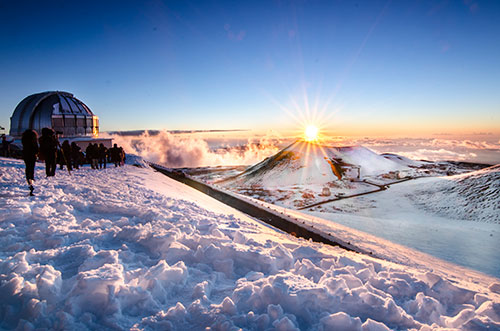 All we need is four words to convince you this is the ultimate winter wonderland destination: skiing on a volcano. You'll certainly get a thrill out of partaking in your favorite winter sports at the 13,796-ft -foot summit of Mauna Kea (just beware of symptoms of altitude sickness at this height!). Even better yet, head back to the Mauna Kea Beach Hotel for a rejuvenating spa treatment or warm up on the beaches of Hawaii afterwards!
Greenough, Montana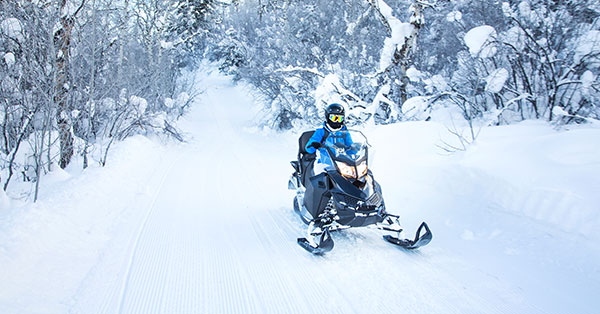 Nestled in Blackfoot Valley, Greenough, MT houses one of the best all-inclusive resorts in the country – Paws Up Resort. With everything you could possibly want or need – like a general store, restaurants galore, winter sports, and so much more – you may never want to leave this place. But, we recommend you venture just outside Greenough to get a taste of history at Garnet Ghost Town, which was once the site of a booming mining town. You can even snowmobile and cross-country ski at the Garnet Range.
Make Time to Visit One of These Winter Wonderlands!
This year, don't let your honey-do list get in the way of a much deserved vacation. Check off those items now so you can visit one of these fabulous winter wonderlands ASAP! Get started by calling the gutter pros at LeafFilter. We can help you put gutter cleaning behind so you can focus on the things that really matter. Fill out the free estimate form to get started today.