Every summer, homeowners across the country dream of a beach getaway, but they're stuck at home doing dreaded chores instead. If you call LeafFilter, we can help you take the dirty, disgusting job of cleaning your gutters off that list for good, which puts you one step closer to catching a wave.
Maybe it's been awhile since you've even considered a beach trip, and you're a little overwhelmed by all the places you can go. Not to worry! Here's our list of the top 8 beaches in America. We've even sorted each location by activity, so you can be sure to have the beach vacation of your dreams!
Best Beach for Boating & Fishing
Vermilion, Ohio
The little town of Vermilion is nestled in the banks of Lake Erie. It has several small, intimate beaches, which are great for an afternoon picnic or sunbathing. But the best part of Vermilion is the boating. You'll see sailboats, motorboats, yachts, charters, and more when you go boating on Lake Erie. There are public boat docks galore, and you can even find boat rentals if you don't own one yourself. If you're a fan of fishing, the lake has fish like walleye and Lake Erie perch, which are perfect for a summer fish fry.
Best Beach for Swimming
Coronado, California
There are a ton of beaches in California, but this one takes the cake.  The clean, sparkling white sand of Coronado Beach is always packed with avid swimmers and surfers. At consistently warm temperatures and conveniently located right outside San Diego, it's the best place to take a dip in the Pacific. Lifeguards are constantly on duty, so it's also a lot safer to swim here than at unmonitored beaches in the area. The facility even has restrooms and shower facilities so you can change out of your swimsuit and stay a little later to watch the sunset over the ocean. What are you waiting for? Get to Coronado and dive right in!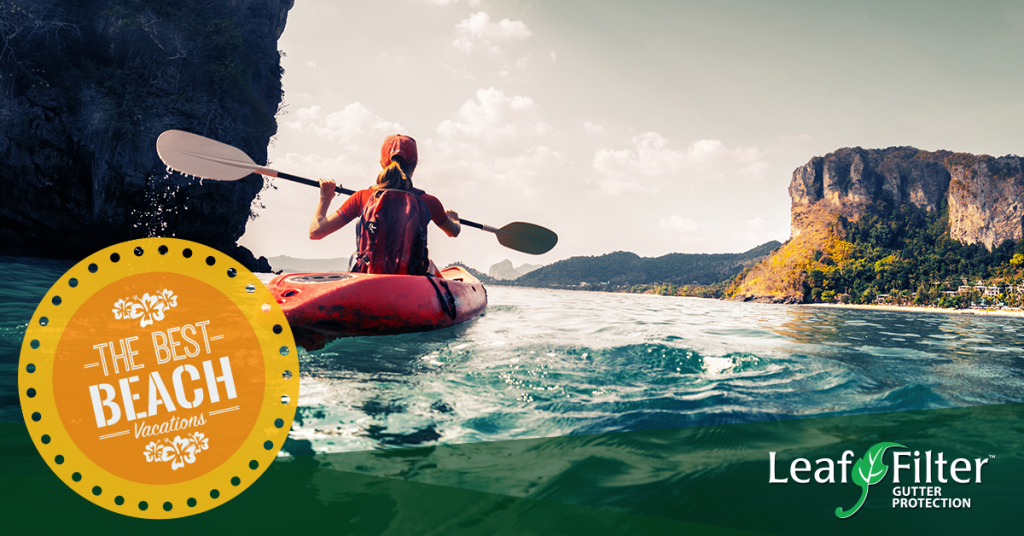 Best Beach for Water Sports
Cocoa Beach, Florida
The watersports offered at Cocoa Beach aren't your run of the mill parasailing and kayaking. Here, you'll get the chance to take a nighttime bioluminescent kayak tour where you'll be dazzled by glowing sea creatures as you paddle your kayak. Cocoa Beach water sports are not to be missed. You could also go on an eco-adventure kayak tour through the mangrove tunnels, where you can see dolphins, manatees, stingrays, and more. You'll also get the opportunity to catch a wave with the help of Ron Jon Surf School, or take a ride above the waves with Cocoa Beach Parasail. You definitely won't want to miss out on the fun at Cocoa Beach!
Best Beach for Exploring & Sightseeing
Sleeping Bear Dunes has the best of Pure Michigan for visitors looking to explore nature. The area features rolling hills and valleys, endless shoreline, small lakes, and babbling streams. Perhaps the most interesting feature of the area is the "Perched Dunes," which were caused by melting glaciers. If you're lucky, you might find a Petoskey Stone, which is a nearly 350 million-year-old type of fossil of colonial coral. You'll also find tons of lighthouses to explore, each with their own unique history to discover.
Best Beach for Scuba Diving (And Treasure Hunting!)
Lake Champlain spans 120 miles across parts of Quebec, New York, and Vermont, and has been the site of over 300 shipwrecks since the 18th Century. Several of these shipwrecks can be explored while scuba diving. You may not get to see tropical fish or the coral reef, but the shipwrecks are just as fascinating to check out! If you're interested in scuba diving in Lake Champlain, Vergennes is the place to go. Here, you'll find the Lake Champlain Maritime Museum, which gives up close scuba diving tours of several of the shipwrecks, including the only known horse powered ferry boat. And hey, you never know, while you're down there, you could just find some treasure!
Best Beach for Wildlife
Bald Head Island, North Carolina
Bald Head Island is home to over 200 species of animals, including turtles, foxes, birds, deer, river otters, fish, and alligators. It is also the easternmost bird migration corridor in America, which makes it a birdwatcher's delight. The island is comprised of 10,000 acres of nature preserves, and 14 miles of oceanfront shoreline, which means you'll get to see the wildlife in its natural, undisturbed habitat. If you climb the island's historic lighthouse, Old Baldy, you'll get an even better view of the wildlife of the area.
Best Beach for Boardwalk/Seaside Shops
Galveston was known as the "Playground of the South" back in the old days, and it still holds true now. Pleasure Pier, which is relatively new to Galveston, brought back the fun with thrilling rides, midway games, and tasty fair food. The Iron Shark Rollercoaster will get that adrenaline pumping, and the Pirate's Plunge water ride will cool you off after a long day in the Texas heat. There are rides and games for the little ones too, making this a fun destination for the whole family!
If you're looking for seaside shops, you'll love the quaint local businesses in the 70-block stretch of historic downtown Galveston. Just don't forget to take a moment to appreciate the gorgeous views of the Gulf of Mexico while you stroll down the 32 miles of beaches.
Best Beach for Sandcastles
Hampton Beach, New Hampshire
While traditional sandcastles made with pails and seashells are gladly welcomed at Hampton Beach, the competition becomes fierce during the annual Sand Sculpting Competition. The tradition began in 2000, and has taken off as one of the most popular sandcastle competitions in country – taking into consideration the $15,000 grand prize, it's no wonder! Master sand sculptors come out in droves to show off their masterpieces. You'll see everything from fantastical dragons to lifelike faces, to towering architectural feats, and much more. Don't miss out on seeing this temporary museum of stunningly sandy works of art!
Forget Your Gutters, Soak Up the Sun
This summer, will you be stuck at home cleaning your gutters, or dipping your toes in the sand at a faraway beach? It should be a no-brainer. Call LeafFilter today at 1-800-290-6106 or fill out the form to get your free estimate. We guarantee you'll worry less about cleaning your gutters again, so you can take that beach vacation of a lifetime without feeling guilty or worrying about what kind of disaster you might come home to find.
Where do you plan to go for your next beach vacation? Tell us in the comments!