LeafFilter's Matt Kaulig Named a 2018 Smart 50 Recipient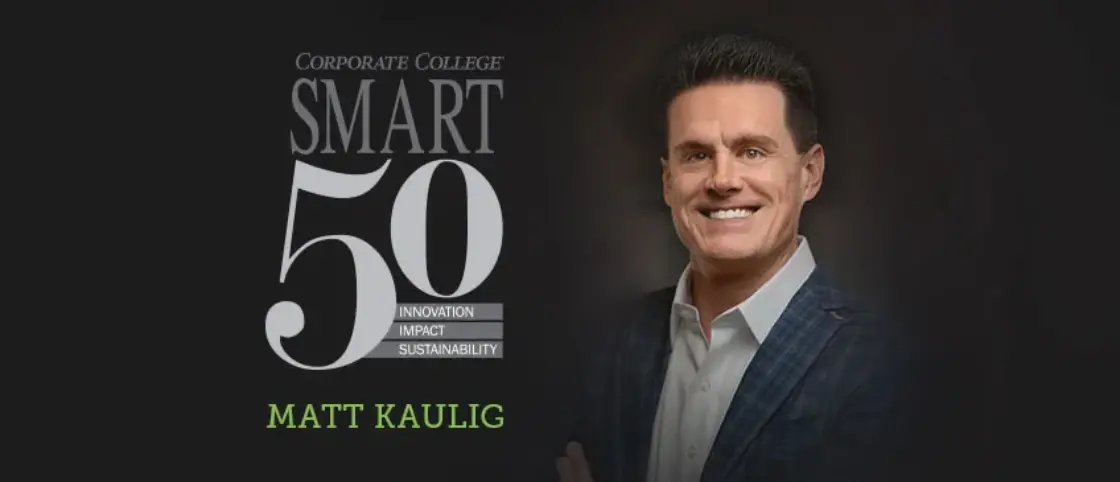 Smart Business Magazine has announced the 2018 honorees for their annual Smart 50 list, which includes LeafFilter's own Matt Kaulig, owner and CEO of the company since 2005. The designation is certainly one to be proud of, and the company would like to extend warm congratulations to their leader.
According to Smart Business, the Smart 50 award recognizes, "top executives [and] their talent to effectively build and lead innovative and 'smart' organizations." Further, the magazine says, that the leaders chosen for the 2018 Smart 50 award, "motivate and inspire people. They are passionate and focused on what they do," among countless other characteristics that all add up to a wholly successful leader.
Also a recent EY Entrepreneur of the Year honoree, Matt Kaulig fully embodies the award criteria. Kaulig embarked on his entrepreneurial adventure in 2005 with one small office in Hudson, OH, and has since led the company through a recession and countless other challenges to be met with great success. The home improvement company is now the number one gutter protection company in the nation and has recently expanded to serve homeowners internationally.
Kaulig is also an active member of the Northeast Ohio community, leading the Kaulig Foundation's philanthropic efforts, and frequently working with his alma mater, the University of Akron, to promote the value of a higher education. Demonstrating his well-roundedness, Kaulig even heads a NASCAR XFINITY race team, Kaulig Racing.
Despite his wide variety of interests, Kaulig maintains a well-balanced leadership approach and dedicates himself to being fully involved in each of his pursuits. This, as Smart Business has recognized, is the true essence of a "smart" leader, so it comes as no surprise that Kaulig has been honored with this designation. Nonetheless, Kaulig is grateful.
"To be recognized for my efforts as a leader of my business, and within the larger community, is humbling," says Kaulig. "The team I have supporting my efforts makes it easy to be a leader, but it's a job I certainly take seriously. I'm absolutely honored to have been recognized by Smart Business for something I'm so passionate about."
For the LeafFilter team, this award is simply an indication of the great things to come for the company. Keep checking back to the LeafFilter blog to see what's next for the home improvement company.
ABOUT LEAFFILTER AND LEAFFILTER NORTH, LLC
LeafFilter is the leading provider of gutter protection in the industry. The sole product – LeafFilter Gutter Protection – features a 50-micron fine micro mesh backed by a rigid vinyl body. Sitting like a lid on a box, the product allows nothing but water to enter gutters. LeafFilter is proud to provide an industry-leading lifetime, transferable warranty, and no-clog guarantee to its customers. The company currently consists of 49 offices throughout the United States and Canada, with additional expansion on the horizon. For more information about LeafFilter™ Gutter Protection, please visit www.LeafFilter.com today.