DIY: Make A Darling Planter Using Your Old Gutters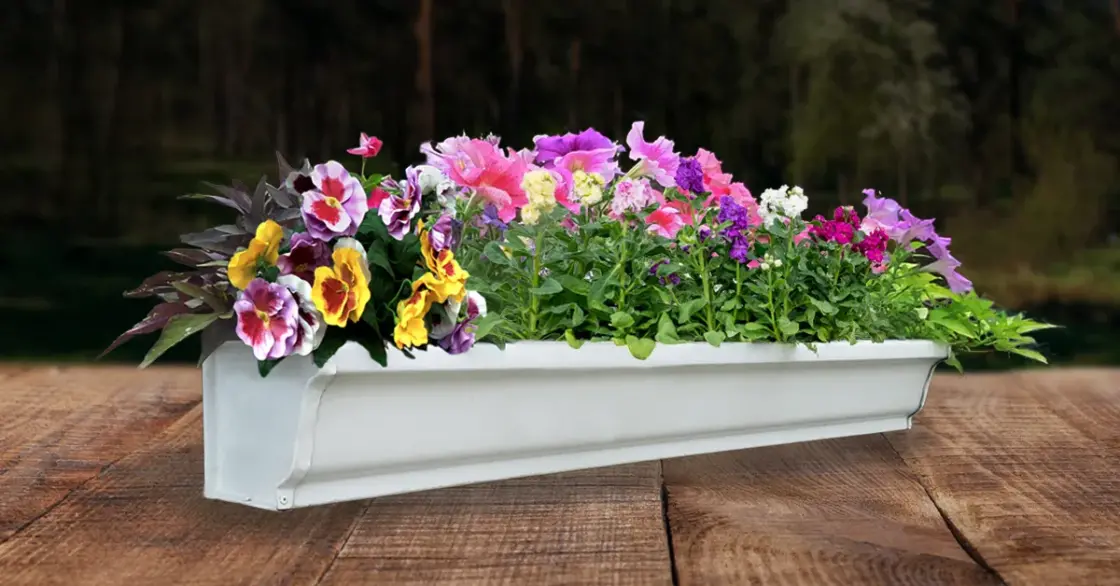 Published
December 19, 2019
Did you recently upgrade your gutters? Old, sagging gutters are unattractive and problematic, and once they are removed you might notice a feeling of triumph and relief as you plop your old guttering into a trash can. As relieved as you might feel to be rid of those old things, you can actually upcycle them and use them to add a bit of flair to your home.
Upcycling is the latest trend in do-it-yourself projects. This process involves breathing new life into an old, unwanted product and making it into something creative and new. So how can we upcycle guttering? While there are a number of projects DIYers can pursue, the easiest (and, arguably, classiest) involves turning your guttering into a flower pot!
Here's what you'll need:
-Unwanted Guttering
-End Caps
-Tin Snips (check your local hardware store)
-Caulking
-Paint
-Magic Marker
-Soil And Plants
Step One: Measure And Trim Your Gutter
Your DIY planter can be as long or as petite as you want. Either way, you'll want to measure and mark where you need to cut to ensure you get a clean, straight cut. Once you've marked the base, back, and front of the gutter, carefully cut along the lines with your tin snips.
Step Two: Seal Your End Caps
Place an even bead of sealant on the grooves of your end caps and then situate them on each end of your gutter. Once it appears to be even, wipe away excess caulking and allow your project to dry.
Step Three: Paint Your Planter
Once your caulking has dried, it's time to paint your planter! You can find tin-friendly paints and primers at both crafting stores and hardware stores. Some choose to cover their gutter in primer and then spray paint it white, creating a blank canvas that's perfectly prepped for doodles and creative design. Once your planter is painted, allow it to dry for a full day.
Step Four: Plant Some Flowers!
Fill your planter with soil and plop some flowers in. You'll find that your gutter is now a chic planter that's sized perfectly for your windowsill. Inspire guests with your creativity and add a touch of earthiness to your space.
Your home is your castle, and it offers an incredible outlet for DIY projects and crafting. This project is great for scout troops, children, and grownups alike!
If your gutters could use a bit of TLC, LeafFilter is happy to help! Click here to schedule your free estimate.