Team Spotlight: Introducing LeafFilter Of Raleigh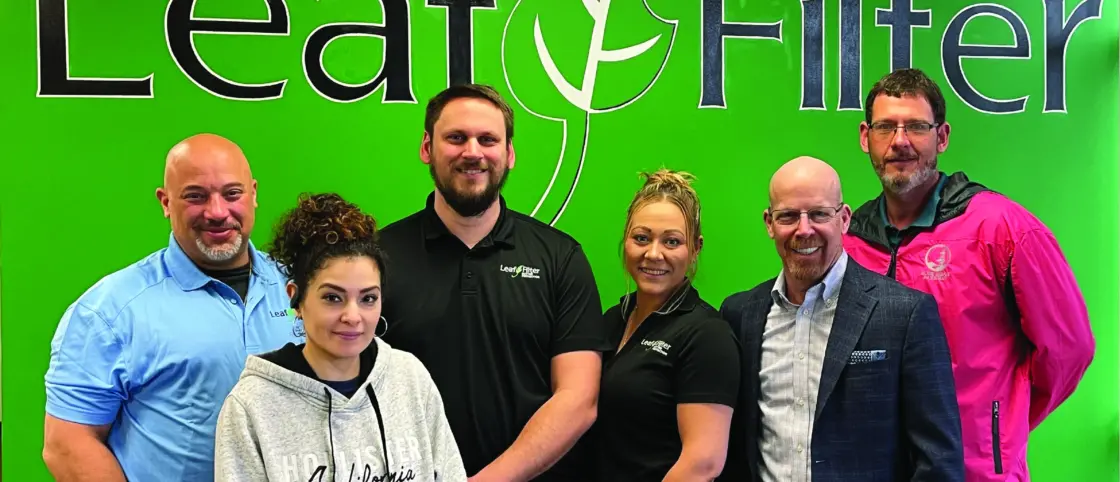 Leaf Home has brands across North America, and some of our very best people work at local offices. Leaf's oldest brand is LeafFilter, and many of its offices have operated for more than a decade and a half. To learn a bit about the decade-old Raleigh office, we sat down with Jim Magee, Operations and Sales Manager, to discuss all things LeafFilter. 
Leaf: Thanks so much for chatting, Jim! We'd love to learn a bit about what you do here at Leaf. How long have you been with LeafFilter?  
Jim: Gosh, it's been a decade, which is wild. I started in January 2012, so I celebrated my ten-year anniversary this year.  
Leaf: Happy ten-year anniversary, Jim! Do you remember how many offices we had back when you started?  
Jim: We had just a handful of offices back then. 17, I think? Today, we have more than 150 offices from coast to coast. A lot has changed over the years.  
Leaf: So much has changed in the past few years alone but over a full decade? That must have been mind-blowing to see firsthand. What is the biggest change you've witnessed?  
Jim: Honestly, I think the biggest change has been watching the Raleigh office grow. When an office first opens, it's all very heady and exciting – it's kind of like this passionate frontiersman mentality, to a degree. We're bringing a groundbreaking product to a new area; it's a new frontier for all of us. But then, after a while, you settle into how the business works, you learn from your mistakes, and you grow. And our team has grown.  
Leaf: How many people are on your team? 
Jim: There's me, the Operations Manager. Then we have three Installation Managers, an Installation Recruiter, an Installation Trainer, an Installation Admin, two Service Technicians, a Marketing Manager, five Field Marketers, and 18 Sales Representatives. Our team is over 30 people strong right now. 
Leaf: Wow, 30 people! That's incredible! Can you speak to what drives your team? 
Jim: Yes, 30 people – plus 39 installation crews! While we've got an awesome and motivated team, I think it all starts with our industry leaders. Great products, a great marketing plan, and fantastic customer service. We've got talented, passionate people across the organization who really care about our customers. On the local level, we don't just sell things, we create relationships. That and a TNT mentality keep us inspired. 
Leaf: I love that attitude. It's neat to see how LeafFilter operates across the nation. Let's talk a bit more about the local atmosphere. What kinds of unique weather do you see in Raleigh?  
Jim: (Laughs) It's not too bad here, but any type of "white accumulation," or threat of, completely shuts everything down. There's not much here in the way of snow removal equipment.  
Leaf: So funny! Our corporate office is in the Lake Erie snowbelt, so we can't even wrap our minds around not having an abundance of snow removal equipment. Tell me more about your team — how do you guys contribute to the success of Leaf Home overall? 
Jim: Since we opened in January 2012, we have had continued year-over-year growth. Before our territory split in 2019, we were making roughly five times what we made during our first year of operations. And that's not to mention the tireless support from our employees and customers alike. It's all that stuff that keeps us going. 
Leaf: Are there any achievements that stand out to you as particularly memorable? 
Jim: Yes, during COVID-19, it meant a lot to be able to keep people working so they could provide for their families. We're a bit like a family at the Raleigh office. The connection we see daily among our team members is one of the most rewarding things. I'm proud to be part of a team like that. 
Leaf: That's awesome! How would you describe that tight-knit culture at the Raleigh office? 
Jim: We have a hard-driving TNT mentality. Everyone is competitive and in it to win it. We continue to improve and excel every day. We strive for our customers to be happy and get the best performance possible, but we take a lot of pride in our work on a personal level, too.  
Leaf: It's so important to be able to cherish and appreciate the work you do. Making a difference in people's lives is huge.  
Jim: I absolutely agree. I very much enjoy going to work every day. The people and culture make this the best company I've ever worked for.  
Working for Leaf Home is a treat, no matter which office you call home base. Are you interested in exploring opportunities with our team? Check out the Leaf Home careers page to find opportunities near you.