Gutter Cleaning Safety Tips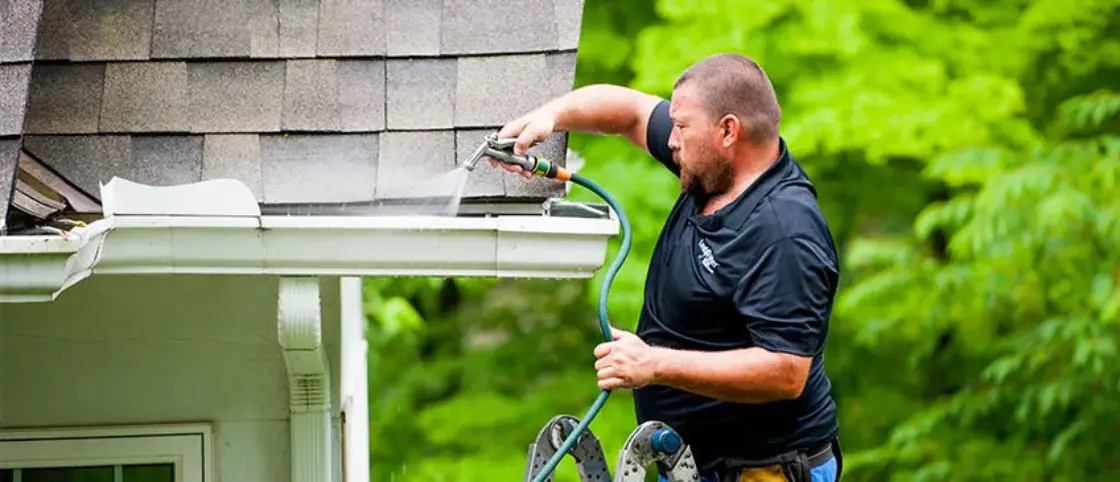 Gutter cleaning is a necessary task that has to be completed multiple times per year, however, it can cause serious personal injuries and property damage in some circumstances. Thousands of homeowners end up in the emergency room each year from climbing the ladder to clean their gutters, making it one of the most dangerous household tasks!
In order to avoid any dangerous mishaps, follow our safety tips for gutter cleaning.
Why Cleaning Gutters is Important
You may not realize it, but cleaning your gutters is important to the overall health of your home. If left neglected, serious water-related issues can occur, such as:
Foundation damage
Structural issues
Fascia and soffit rot
Mold and mildew
Basement Flooding
…And more!
These home issues are not only annoying, but they can be incredibly expensive, costing thousands of dollars to repair! Having clog-free seamless gutters will divert water away from your home, mitigating any potential water damage from occurring.
Safety Tips for Gutter Cleaning
If you are venturing on the ladder to clean your gutters, it's important to take these proper safety precautions into consideration:
Practice Ladder Safety for Cleaning Gutters:
Buddy system: If you can't find someone to stabilize the bottom of your ladder, at the very least, let someone know that you will be using a ladder to work on your roof or gutters.
Choosing your ladder: Choose a safe, sturdy, and preferably has a small shelf strong enough to hold a five-gallon bucket to collect gutter debris.
Inspect First: Inspect your ladder first by fastening the screws and bolts, and checking for defects and loose parts before climbing.
Don't overreach: Always move the ladder to a new spot instead of reaching farther down your gutters. This is how many ladder accidents happen!
Use the rule of threes: Keep both your feet and one hand planted on the ladder at all times to avoid any accidents.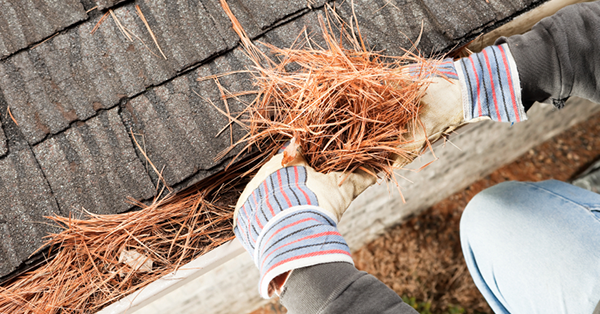 Protective Gutter Cleaning Gear:
Hands: Always wear gloves to protect your hands from dirty, rotting leaf debris. This type of debris often contains bird, pigeon and squirrel feces which can be covered with bacteria!
Eyes: Protective eye gear is a must. You never know what might fly out of the downspout when cleaning gutters! Wasps love hiding in gutters, too. They will always go for the eyes when being set free or disturbed during gutter cleaning.
Rubber Shoes: The right pair of shoes will make a huge difference when climbing the ladder to clean your gutters. Rubber-soled shoes are the best for preventing slip and fall accidents.
Be Aware of your Surroundings:
Power line cables: When cleaning your seamless gutters, be mindful of power lines around you. Conduct a visual inspection of the electrical cable where it connects to the roof before gutter cleaning. Do not attempt to repair broken or damaged wires on your own. Instead, call a licensed professional to assess the situation.
Eliminate Gutter Cleaning From your To-Do List
Dream of minimizing having to clean out your gutters again? There is a solution! LeafFilter Gutter Protection installs on your existing seamless gutters and will eliminate the need to clean out your gutters for life! This is the best way to ensure your gutters are clean and clear of debris for the lifetime of your home.
Before installing LeafFilter, the gutter experts at LeafFilter will clean the inside of your gutters so that they are clear and clog-free. This way, you can ensure that your gutters are looking their best for years to come.
Stay safe and off the ladder. Learn more about LeafFilter and request a free estimate.