Roof Repair vs. Roof Replacement

As a homeowner, it's imperative to make sure that your roof is in tip-top condition. A healthy roof will protect your home from a variety of serious and costly damages, increase its value, and save you money on heating and cooling.
If your roof is too old, falling apart, leaking, or showing signs of bubbled or cracked shingles, you need to determine whether you should repair or replace it. To figure out which option makes sense for your particular situation, we encourage you to ask yourself the following questions: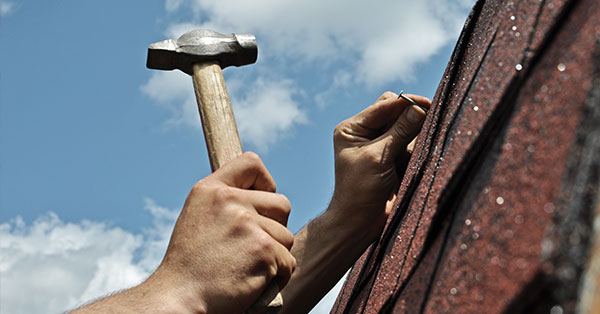 What is the age of your roof?
If your roof is relatively new, you probably will not require a complete roof replacement. In the event that you live in an older home with a roof that has never been replaced or replaced 25 to 30 years ago, it is in your best interest to opt for a roof replacement.
What are your time constraints?
If you are going on vacation or need your roof fixed by a certain time period, you may only be able to repair it. However, if you do not have any time constraints, you can definitely find a professional roofing contractor who can replace your roof.
Which areas of your roof need to be replaced?
Are there only a few areas on your roof that need to be fixed? If so, a repair will likely be okay. However, if over 30 percent of your roof needs to be repaired, a roof replacement is probably a necessity.
How much more will a complete roof replacement cost?
When considering a roof replacement or roof repair, you should get an estimate on both options. You may find that a roof replacement is only a bit more expensive than a roof repair and well worth the extra money.
For example, you may be quoted $5,000 to repair a part of your roof and can spend $2,000 more to get the entire roof replaced. In this scenario, a roof replacement is the smart move.
Is your roof deck suffering from moisture damage?
If your roof deck has any moisture damage, a roof repair will not solve the issue. Therefore, replacing your roof would be your best bet.
Do your gutters require a new replacement?
You may find that both your roof and gutters need a replacement. If this is the case, it may be more affordable and convenient to have everything replaced at once.
Contact LeafFilter for a Gutter Replacement
If you are in need of a gutter replacement, the LeafFilter gutter experts will be happy to replace your gutters at the time we install our quality, micro-mesh gutter guards. Request a free estimate today for further information.