Roof Terminology Cheat Sheet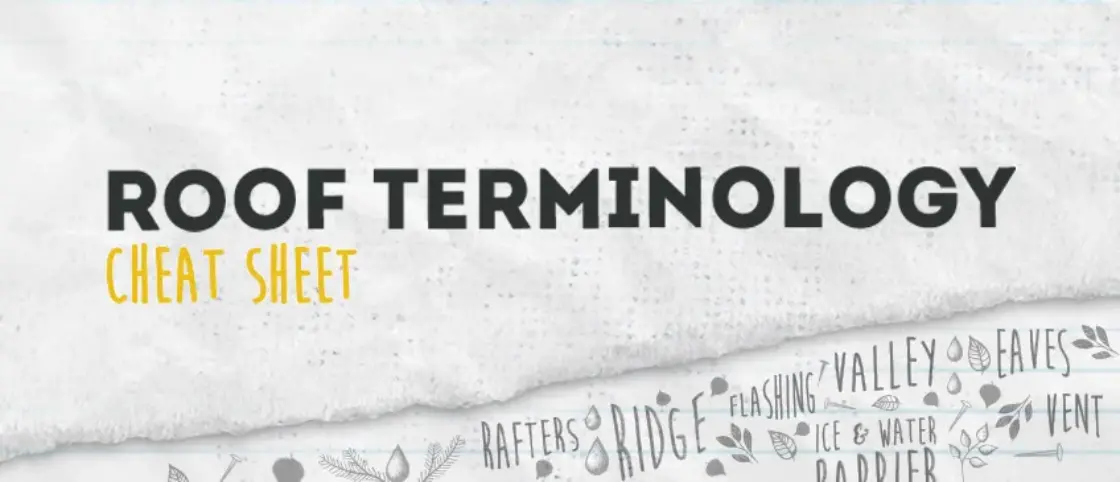 While taking care of their gutters, many homeowners discover roof problems they weren't aware of beforehand. Perhaps your neighbor alerted you that your water and ice barrier is deteriorating, or maybe the reflection of sunlight on your metal flashing helped you see that it's not secured properly.
Before you embark on any roof repairs, you need to have a basic understanding of roof components, and common roof terminology. This will help you once you hire a professional roofer to repair or replace your roof. You'll be able to better understand the work they'll be performing on your house, and you'll know what you're actually paying for when they say they have to replace your decking (Hint: They're not talking about the pool deck in your backyard!).
Use this roof terminology cheat sheet when chatting with your contractor, and you'll be able to keep up with no problems at all!

Protect Your Roof from Damage
Now that you know all the roof components, you know just how important it is to protect your roof from damage. Choosing sturdy shingles, diligently placing a starter strip to prevent water seepage, and strategically placing drip edges on the steep edges of your roof will all help protect your roof from water damage. However, this is often not enough to completely prevent water from finding its way under your roof.
Most homeowners don't realize that their gutters, also known as eavestroughs, are actually one of the most essential roof components. By protecting your gutters with a top-notch gutter protection system like LeafFilter, you'll ensure that leaves and debris won't build up and clog the system. This means water won't have the chance to overflow and make its way under your shingles. With LeafFilter, you can rest assured you'll have clog-free gutters for the lifetime of your home.
Get your free estimate from LeafFilter by filling out the form on our website today!