Common Gutter Cleaning Questions

Published
February 1, 2017
Here at LeafFilter, we get a lot of questions about cleaning gutters, and how to choose the right gutter cleaning service. Maybe you've asked yourself these same questions. Luckily, we have gutter experts right here at LeafFilter. So, read on for answers to the three most common gutter-cleaning questions we hear.
How do I clean my gutters?
For many homeowners, gutters tend to be an out-of-sight, out-of-mind home feature. In order to properly clean your gutters, you'll need the right tools and know-how to get the job done. In this article, you can learn all about the proper technique you need to clean your gutters. But you may want to think twice before you do any DIY work on your gutter system.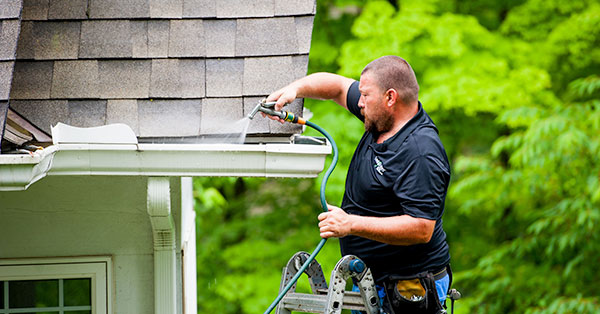 Should I hire a gutter cleaning service?
Cleaning gutters is not a project you should try to DIY. Many homeowners do not realize the risk they're taking when they try to clean their gutters themselves. First and foremost, there is the issue of safety. In order to properly clean your rain gutters, you must climb a ladder.
Hundreds of thousands of people are severely injured each year from ladder falls. Without proper equipment and safety training, you could become another statistic. It's also important to remember that your gutters are fragile, too. Putting too much weight on them, or accidentally dropping something on them, can cause costly damage to the entire system.
Due to these risks, a professional gutter cleaning service is certainly a good option. However, many people don't realize gutter cleaning is only a temporary solution to a permanent problem. LeafFilter Gutter Protection provides permanent relief from clogged gutters, meaning you won't have to worry about hiring a professional company to take care of your gutters ever again.
How can I eliminate gutter cleaning?
Cleaning gutters is not a fun task. Between risking your personal safety, and the disgusting gutter gunk, it's no wonder you're looking to check gutter cleaning off your to-do list for good! The good news is, that LeafFilter is that permanent solution you've been looking for.
Featuring a 50-micron-fine, surgical-grade stainless steel micro mesh backed by a rigid vinyl body, LeafFilter stands the test of time against tough gutter debris, like leaves, pine needles, seed pods, and other organic material. LeafFilter is superior to other gutter protection products because it does not disturb your roof or shingles like other systems do, and it is backed by a lifetime guarantee.
We know you dread cleaning your gutters, and you might even avoid it until there's a visible problem. Unfortunately, ignoring this task and letting the problem fester can lead to severe and costly home damages, such as a cracked foundation, roof leaks, and pest invasion. Even though it can be a pain, it's important to keep your gutters properly maintained to prevent this type of home damage.
You may decide to DIY your gutter cleaning, or even hire a professional to take care of this chore. But, in the long run, it's a much better option to go with LeafFilter and minimize cleaning your gutters. Fill out the form on our website today to request your free, no-obligation estimate.