Gutter Repair 101
Published
October 3, 2016
If you've noticed your gutters sagging or falling off your house, it may be time to call a gutter repair service for help. Left in disrepair, your gutters can cause serious damage to your house, including foundation and roof damage, landscape erosion, flooding, insect infestation, and more. It's best not to wait to do something until these problems arise. You may be tempted to DIY your gutter repairs, but the experts here at LeafFilter caution against this. There are many safety issues to consider when repairing gutters. If not done properly, your gutters also have the potential to cause even more damage to your home. For these reasons, it's important to call gutter professionals to take care of the job for you.
If you've never had to do any sort of gutter repair in the past, you may be wondering what to expect. Here are a few things that will happen when gutter repairs need to be made:
Gutter Inspection and Quote
After you call a gutter repair service, they will come to your home at the scheduled date and time to take a look at your existing gutters. They'll look for any spots that are clogging, pulling away from the home, sagging, or otherwise damaged. They'll also look at your fascia board to see if mold, mildew, and wood rot could be part of the issue.
Based on this information, they will discuss the different gutter repair options with you. Depending on the extent of the damage to your gutters, you may need complete gutter replacement. However, minor damage can sometimes be fixed with realignment, reinforcement, and additional hardware.
After deciding which option is best for your situation, they will quote you a unique price for your desired gutter repairs based on your specific needs. It is important to know that services typically do not provide quotes before performing a gutter inspection, as all gutter systems have unique features that may require extra time and talent, as well as specific tools and materials. Your price will include the cost of materials, tools, and manpower required to complete the job.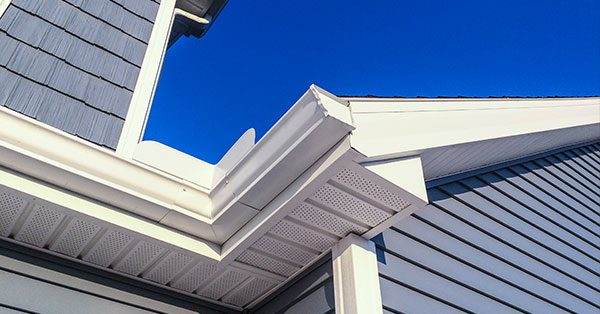 Performing the Work
The gutter repair service will come back to your home for your gutter repair appointment. At this time, they will perform the agreed-upon work. This type of work could include replacing sections of your fascia board, soffit, or gutters, or completely starting from scratch with a brand-new gutter system. They will ensure your gutters are properly sealed and supported with gutter hangers for maximum performance. They will also correct any alignment issues so that the slope of your gutters will allow for proper water diversion. Finally, they may even install a gutter protection system, such as LeafFilter, to protect your gutters from clogging with leaves, pine needles, and other debris.
Depending on the scope of the job, the gutter repair service may take anywhere from a few hours, to a whole day to complete the work. Installing a brand new gutter system will take much more time than reinforcing a ten-foot section of your gutters. If you'd like to be home during the repair, make sure you can be flexible with your schedule on the day of service.
Final Inspection and Parting Instructions
Once the gutter repairs have been made, the servicemen should perform a final inspection. They'll walk with you around your home to point out the work that was done and answer any remaining questions you may have. With your approval, they may ask you to sign off on the work that was done. If you have not chosen to install a gutter protection system such as LeafFilter, they will also give you instructions for gutter cleaning in the future. This upkeep is necessary to maintain properly functioning gutters. However, with a top-of-the-line gutter protection system like LeafFilter, you can minimize future gutter cleaning.
Finally, they may give you contact information in case you think of additional questions, or require additional service in the future.
Now that you know what to expect from a gutter repair service, it's time to take action. Don't let your gutters cause any more damage to your home – protect your investment for years to come by taking care of your gutter system. During the LeafFilter installation process, we will perform a thorough inspection and repair your gutters to ensure they are in top-notch form before installing our gutter guards.