Are you feeling a little cramped in your home? Could you use a little more storage space or an extra bedroom? Repurposing unused or awkward spaces is a great way to make the most of your existing home. An attic renovation can give you all the space you need to live comfortably without having to move.
Make sure to check out these tips before you get started on your renovation project!
Check Up on Local Laws and Regulations
Every locality has its own building codes, so it's important to check on those before you begin your project. It may seem like an unnecessary hurdle, but these building codes are in place to protect your and your family from safety hazards like electrical fires, sewage backup, and faulty supports, among other things.
In order to obtain your building permit, you may be required to provide sketches or blueprints of your proposed project, have an inspector check out the project at different points, and/or provide proof that you've hired licensed contractors to perform the job. Do your research ahead of time to prevent any roadblocks during your attic renovation.
Hire An Inspector Before and After the Attic Renovation
To that point, you should hire a professional building inspector to check your attic before and after the renovation to ensure you've complied with building codes. Prior to renovation work, an inspector can point out any existing issues. This will help you work efficiently, and take care of problems you may not have otherwise foreseen.
It's also important to hire an inspector after the project is finished to make sure everything has been taken care of. While you may not have any issues with the way the work was performed while you're living in the home, it can become a big problem when you go to sell your home in the future. Renovations that weren't up to code will need to be fixed before the home can be sold to new owners, so it's better to check your work now.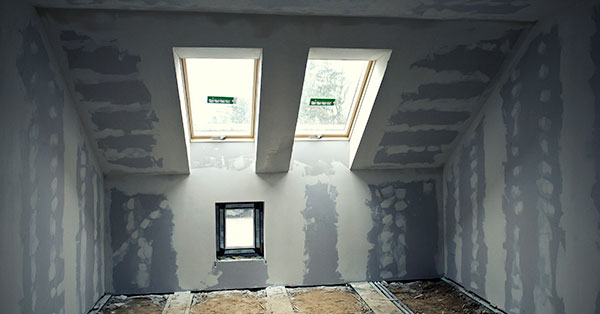 Conduct an Energy Audit
If your attic is a little drafty now, it's not going to get any better after the attic renovation without a bit of attention. An energy audit can help. You can conduct an energy audit yourself, or hire a professional to do it for you. The purpose of an energy audit is to determine where you can make adjustments to improve energy efficiency. You may have undetected air leaks, insufficient insulation, a broken furnace, or faulty HVAC system.
Fixing these temperature control problems will help you in many ways. You'll create a much more comfortable space that is fit for living, you may save on your energy bills, and you'll close off access points critters could use to enter your attic.
Design with Functionality in Mind
As you decide how you're going to repurpose your attic space, you should keep your and your family's needs in mind. Perhaps you need more closet space, or would like a storage area for holiday supplies. In that case, you'll want to plan on installing shelves, racks, and other organizational units. For a simple storage area, you may not need to install flooring or drywall, but can do so for a finished appearance.
If you'd like a full master suite or and additional living area, there are extra considerations. The addition of a bathroom means you'll need to reroute some plumbing fixtures so you have a water source. Try to position a new bathroom above other water sources, like your laundry room, another bathroom, or kitchen area, in order to make rerouting your plumbing easier. You'll also need to make sure you have enough clearance for comfortable living.
For example, if the new attic bedroom is for a child, they may have enough room to comfortably stand and play in their room now, but will they have enough space as they grow? Attics are often steeply pitched, so it's extremely important to plan around height.
Utilize Every Nook and Cranny
Whether you're designing for storage or a living space, you can use every inch of your attic to your advantage. While the steep slopes of your attic's ceiling may hinder movement in these areas, you can still put storage spaces in these nooks and crannies. You may need to get a little creative to determine how to utilize certain areas, but that's half the fun of it!
Don't Forget About Your Exterior 
A full attic renovation not only includes interior renovations, but also exterior. The attic is especially vulnerable to roof leaks and issues with the gutters. So, in addition to your interior design, you should also make any necessary repairs to your roof and gutters. Look for loose or missing shingles, faulty roof flashing, and clogged gutters. In order to maintain safety and assure high quality work, you should hire a professional to take care of these issues.
For example, a gutter protection system like LeafFilter can help you eliminate clogged gutters for good, so you'll never have to worry about them again. And the best part is, you won't even have to climb a ladder to reap the benefits of LeafFilter. The LeafFilter professionals do all the work for you!
Your attic can provide enough storage space or extra room to make your home much more comfortable. All it takes is a little creativity and some elbow grease. So don't put off your renovation any longer. Follow our tips, and you'll have an attic to envy in no time!