Team Spotlight: Bleeding Green In Atlanta, GA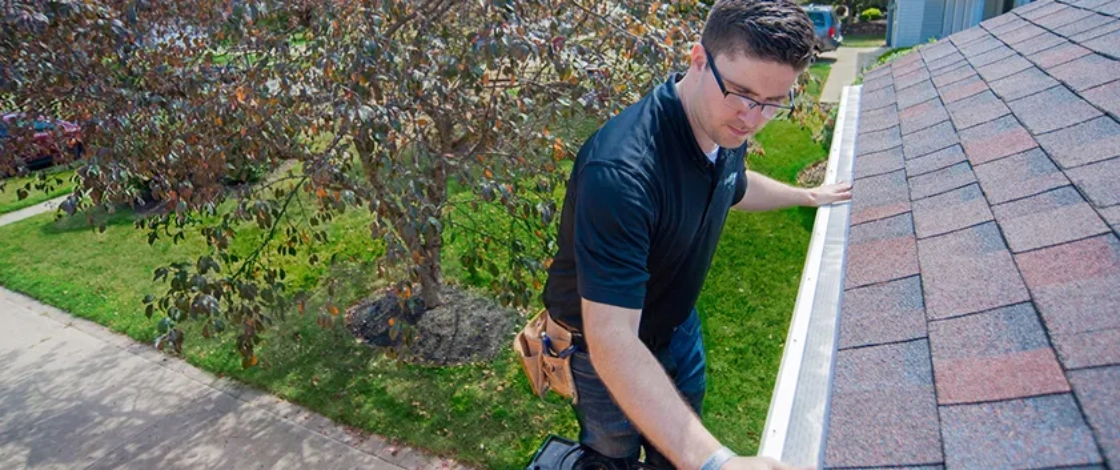 Updated
November 30, 2023
Behind the success of every company is a team of dedicated individuals with a passion for people. For companies like Leaf Home Solutions, this team ranges from the local level all the way up to the corporate office, ensuring that a people-first mentality is carried throughout the entirety of each and every brand. For people like Jon Rouse, Operations Manager of LeafFilter's Atlanta office, such an approach is easy… all one needs to do is "bleed green!" We sat down with Jon to discuss his career with LeafFilter as well as the incredible team he works with within the Atlanta office. 
LeafFilter: Tell me about yourself — how long have you been with LeafFilter?
Jon: I have been with LeafFilter since 2016. I started as a sales rep, but I joined the Atlanta office in 2017 as an Ops Manager. Before joining the team, I worked with a construction company. I had been a sales manager for about 15 years — I sold gutters and gutter protection, and I also sold a lot of roofing. So, before coming to LeafFilter, I was aware of the existence of different types of gutter protection.
LeafFilter: Transitioning from a local construction company to a big team like ours is quite a change. What is your overall impression of the company? 
Jon: I tell my coworkers that I bleed green — it's different than where I came from working with the construction company, but in a good way. There's a sense of close connection, and everything feels family-oriented but on a much larger scale. I think it initially took me about three months to get to know the whole team! 
I love that there is tons of support from the corporate team. Jen Fandrich on the corporate Sales team is one of my favorite people — Tina Meyer in Procurement is awesome as well. 
There are a couple of other team members who help me on a regular basis out of our marketing and regional team. Those people are Cam Jellison, Sharon Arnold, Rachel Greene, Seth Weisgarber, and Robert Lister I feel like they are the fuel to our engine of success, and I greatly appreciate all the efforts they put in along with all of our regional trainers and fearless leaders — Chris Counahan, Luke Sherer, Jeff Block, Curtis Marshall, and Sam DeLozier. 
I think one of the things that resonates best with me is that LeafFilter stays true to its word and promotes from within. Sales reps under me have moved on to other positions in the company. One moved on to our recently opened call center in Las Vegas… so much mobility has been refreshing to see.
LeafFilter: It's great to hear that you've seen so much growth on your own team. How many people are at the Atlanta office now?
Jon: We have a pretty big team. There are 37 sales reps, four project install managers, two installation trainers, three service techs, two admin assistants, and two corporate recruiters. Our local warehouse and office are 12,000 square feet in size.
LeafFilter: Wow! No wonder it took you three months to get to know everyone. What stands out to you as unique about your team?
Jon: It's interesting, but the diversity within the company is the most amazing thing to me. At the construction company I came from, we didn't have any women on our team. Historically, construction has been male-dominated in every facet of the industry. However, we work with incredible women at LeafFilter every day. In fact, one of the first women I hired to join my team is now my top rep — she's an outgoing salesperson and a master of her craft, and she came from a background in flooring. It's great that LeafFilter really is an equal-opportunity employer.
I also want to highlight another thing that stands out to me as unique, and that's the amount of personality everyone brings to the table. Managing so many sales reps, I see a lot of personality, and I get to see it firsthand throughout their business growth and personal lives. I've seen people build their careers from the ground up here, and it is amazing to see how a great workplace and growth opportunity translates into people really flourishing in their lives.
LeafFilter: Very true. We're a diverse team in terms of the people we employ and the places we serve. We've heard stories from every climate in the nation. What is the weather like in Atlanta? Has your team encountered any memorable weather events?
Jon: (Laughing) Weather? The most memorable thing we deal with out here is traffic! The traffic in Atlanta is incredible like nowhere else I've ever been. All of the sales reps on the Atlanta team are hard workers, though, and they're not phased by that or the weather. Snow and ice aren't common out here, but it does happen… and our area does not have salt trucks. We once had to pay to tow a rep out of an ice storm for that reason. We have had some tornadoes come through, but fortunately, LeafFilter Gutter Protection works in different weather conditions.
LeafFilter: It definitely does, as we've seen throughout the wild weather events of the last few years in particular. With that being said, why do you think people should get LeafFilter Gutter Protection on their own homes?
Jon: If they don't have it, they need it. It's one of those options people typically don't think about — and there are serious problems that arise without proper water management. It's exterior plumbing, which should merit as much attention as interior plumbing. Your foundation is expensive and often prone to water damage, and it is important to protect your largest investment. In Georgia, lots of homes don't have gutters. People are realizing that's a major problem, so we put a lot of focus on protecting the foundation. 
LeafFilter: And on the other side of the coin, why should people join the LeafFilter team?
Jon: LeafFilter is a great company to work for, and the income is ridiculous in a truly amazing way. The way we pay our sales reps, I see people totally transform their way of life within a matter of months, which leads to personal growth. I talked to one guy who was driving a beater, and now he's driving a Ford F150… the opportunities are truly exponential. Taking care of your employees enables them to take care of their families.
LeafFilter: Thank you, Jon, for sitting down with us to chat. Is there anything else you'd like to add?
Jon: Yes, one more thing! Overall, being recognized…. Making people feel valued, and respecting the work everyone does… the team mentality at LeafFilter is amazing. We all work hard to help LeafFilter accomplish its mission, and it is great to feel like we're making a difference on a winning team.
LeafFilter truly has a culture like no other. From a TNT ("Today, not tomorrow") mentality to an interconnectedness that continues whether we work in-person or over video calls, LeafFilter's strength is not just in the quality materials it uses to produce the best gutter protection on the market… the company's true strength is the people working behind the scenes. Our team is growing every day, too! Check out opportunities near you on our careers page. 
Leaf Filter Gutter Solutions in Atlanta