Spotlighting Julia Biskeborn: LeafFilter Regional Sales Training Manager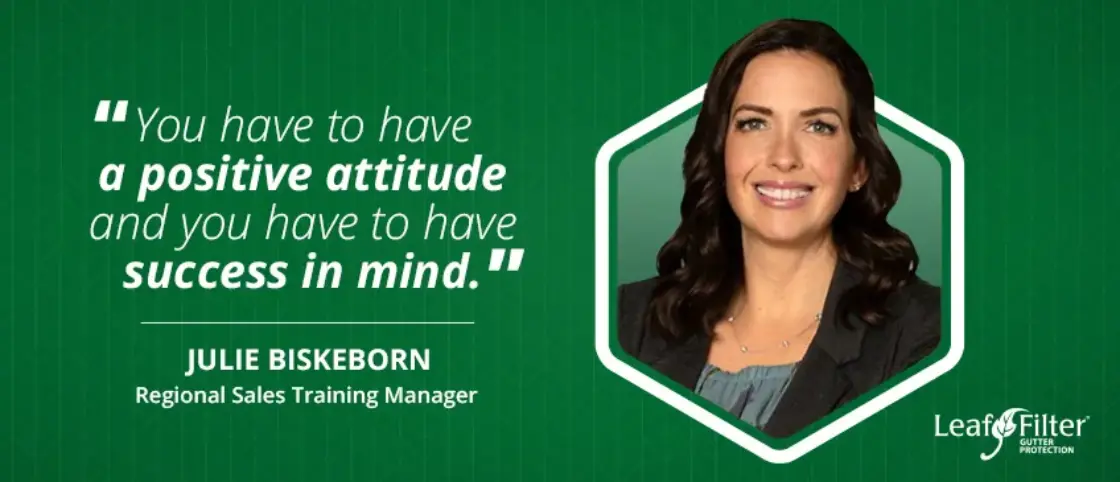 The home improvement industry is spearheaded by a diverse workforce that, fortunately, is growing to include more and more women. Leaf Home prides itself on being a diverse workplace, and a significant portion of its workforce is built up of women. To celebrate the energy women bring to the workplace, we sat down for a chat with LeafFilter's Julie Biskeborn, a former Commercial Account Manager who recently moved into an exciting new role.
LeafFilter: Thanks so much for joining us today, Julie! We're really excited to spotlight one of our team members who assists in making the workplace great. Tell us a bit about this new role — you're now a Regional Sales Training Manager, correct?
Julie: Yes, I am! I was promoted in May. My manager knew from the moment I joined the team in mid-2020 that I love sales, but I also really love developing people. That's what gets me excited to wake up every single morning. I love training, mentoring, and developing. He saw that early on and he said, "Julie, I'm going to recommend you for this position."
LeafFilter: That's amazing, Julie! I can definitely see that level of energy in you. So, you're mentoring in this new role?
Julie: I'm mentoring, but I'm also doing so much more. My job is essentially to help our sales reps be the best they can be. I do run leads with reps, and when I'm out there in the field, having that rep all of a sudden have that "ah ha!" moment is amazing. It's like, "Hey, what you're doing has a bigger purpose." We're doing so much more than our job description entails.
LeafFilter: Yes! The Leaf team is wholly aware of how many issues are caused by clogged gutters, but would you mind providing some perspective on what you've seen out in the field?
Julie: Of course. Clogged gutters are a nuisance, but when you see gutters overflowing… That's going to cause big problems. These problems, if homeowners don't address them quickly, can cost them a lot of money down the road. Knowing that LeafFilter solves the problem of clogged gutters and protects the home from those damages is amazing. I love seeing homeowners light up when they realize we can actually fix those problems with LeafFilter, and I love also seeing our rep light up when they have that realization.
LeafFilter: That's such a special moment to have. That must have been really interesting to witness in the past year, however, given the social distancing our team has been utilizing given the global pandemic.
Julie: Oh, for sure. I think that LeafFilter has done a really good job of making sure that we are still a community, despite all of the changes in the world. Even though sometimes you are physically by yourself, I've never felt alone in this company. I've always felt supported and like I'm part of a team.
LeafFilter: That is so great to hear! There's definitely a sense of family here.
Julie: And it's such a supportive family, too. LeafFilter is very forward-thinking. The team is going to give you the tools you need to be successful, period. End of story. That's one of the beautiful things about this brand and this team.
LeafFilter: And you've worked in the home improvement industry before this, correct?
Julie: I've worn so many hats over the years. Let me tell you, LeafFilter really does embody the definition of opportunity. I've been in the construction industry as a woman, and… well, women aren't the majority in this line of work. But that's okay because this team doesn't care about the norm. We're all about breaking the mold. At LeafFilter, they look at your talent and they help you develop your talent, and I think that's a wonderful gift.
LeafFilter: Yes, we love fostering talent here. It sounds like you're passionate about it, too! Do you have any advice for readers who might consider joining our team down the line?
Julie: Of course! You have to have a positive attitude and you have to have success in mind. Leadership, they'll take those traits and your talents, and they'll develop you to where you want to be. But if you're looking for a chance for greater success in your life, LeafFilter has an opportunity for you, whether it be in the sales field, whether it be in installation, whether it be in management, or whether it be at the corporate level. I have never before seen a company with such a dedication to growth… from a personal and professional level.
There truly is something for everyone at Leaf Home, especially if they're interested in joining the LeafFilter team. Are you looking to find a new opportunity? We're looking for someone as passionate and as driven as you. Check out our job listings for openings near you.