Team Spotlight: Endless Opportunities In Fayetteville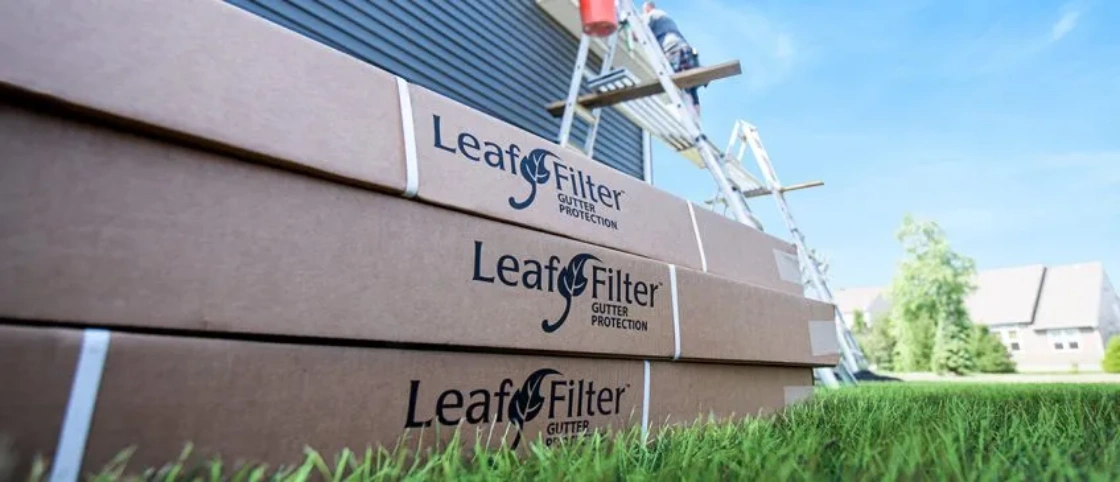 From its first office in Northeast Ohio to more than 100 locations throughout the U.S. and Canada, LeafFilter has grown extensively since 2005. New offices and team members are added year-round, and watching these offices grow is one of the brand's most rewarding milestones. Today, we sat down with Larry King, Ops Manager of Fayetteville, Arkansas to discuss this new office and its unique culture.
LeafFilter: It's great to chat with you today, Larry! I'd love to hear more about you. When did you get started with the LeafFilter brand?
Larry King: Well, it's been a long journey. I came from a background in one call closing sales business-to-business for a large company that had been around 60 years. They went out of business, and some friends and former coworkers found LeafFilter. I kept tabs on Leaf, saw how well the company was doing, and came to a point in my life where I realized I was finding a dream in LeafFilter. I joined the team, and now I bleed green. (Laughs)
LeafFilter: Bleed green – love that!
Larry: You know, it's true. I don't believe there is a better opportunity in America. We have a need where people are basically waiting to see us, because gutters are everywhere, a need every homeowner eventually has. As I said, my experience was cold calling to create a need… so this is a whole different ballgame. They need it, they like it, and they can save money in the long term with this incredible gutter guard.
LeafFilter: Yes, gutters are a need that homeowners often overlook. They're mundane and everywhere, literally over our heads, but they're so easy to forget about… until there is suddenly a problem, like when unprotected gutters clog up and overflow. Did you ever think you'd work with gutters,
Larry?
Larry: Oh, gosh. I didn't know a thing about gutters or elbows before I came on board. But it's really not a difficult thing to learn about. You just apply yourself, do your homework, and have a desire to be successful. To be honest, LeafFilter kind of saved me. I never made as much money or felt as fulfilled in the workplace as I did when I came on full-time with LeafFilter last year. February, that's when I made the change. Just listening in to our Monday calls – I've never missed one – they kept mentioning opportunities for growth and that if you were interested, contact your Regional. Our Regional was Jeff Block, so I texted him once, and he said keep doing what you're doing… three months later when we connected, he asked me how I felt about Fayetteville.
LeafFilter: So you're not from this area originally?
Larry: No! I packed up, left Iowa, and I've been down here in Fayetteville since January. Trying to build success in a new office has been a challenge, but it has been amazing.
LeafFilter: Wow, that had to be a big change for you. How big is your team right now?
Larry: We have ten reps, it's been a battle because leads were light when we first opened. Keeping them busy was a bit of a challenge at first, but I kept telling them to keep the faith because things were going to get busy in just a few months' time. I was praying that was the case… then leads picked up, and we were all so grateful. Many are saying that this is the greatest job they've ever had.
LeafFilter: That is so great to hear. Can you tell me a bit about the weather conditions LeafFilter faces in your area? We love hearing about the diverse climates in which this product performs.
Larry: Well, I came from Iowa, where we have guys putting the product on in the winter armed with de-icer. I came down here thinking they didn't get any snow, and then they had the worst snowstorm and blizzard that they'd seen in twenty years. I thought, "Wow! I brought it with me!" But, no, it's 91 and sunny right now. It's been pretty mild this year, aside from weeks and weeks of rain. I thought for a moment that I'd moved to the tropics. It's a very mixed bag here, we battle rain, we battled the cold in the beginning, and now we're battling the heat.
LeafFilter: Yes, that's a lot of diversity there. I'm sure there's quite a bit of diversity on the Fayetteville team, too. Have there been any team moments that have stuck out to you as particularly memorable?
Larry: Really, the thing that stands out to me is the culture here. We've never been an outfit where we give our employees a book and a CD and say 'Here, learn this.' We're training and optimizing every day. The culture at Leaf is amazing, the team roots for one another and celebrates wins together. I always see it as a win when I see the Fayetteville team congregating in the parking lot before, say, a Friday meeting. They're talking and laughing, and then they come in smiling. And they keep smiling. That's a sign of great company culture.
LeafFilter: Absolutely! We love seeing people smile because they genuinely enjoy their job and the people they work with. Are there any other reasons that make this an attractive team to prospective employees?
Larry: When I started, it was the beginning of the pandemic. People were afraid to get within six feet of you. You know, 90 percent of my demos were on the front step, the back tailgate of a truck, and things of that nature. The product is remarkable, however, and we saw a lot of growth despite the changing world. We go out, and do what we are taught to do, and the company continues to grow. I have a lot of confidence in both the product and the company, especially after seeing all that success amidst such an uncertain state of the world.
LeafFilter: The global pandemic definitely changed perspectives everywhere. Was there anything else that happened in the past year that really struck you as remarkable?
Larry: Oh, yes. We had a derecho storm last year, which is kind of like a land hurricane, which was more costly than Katrina. It wasn't on national news, but battling that and the pandemic and still seeing success made a believer out of me and my team. We really bleed green.
LeafFilter: What do you think the future holds for LeafFilter, given all of the growth you have already seen?
Larry: It's hard to say. We've heard stories of the incredible growth over the years, and Leaf Home has expanded so much in the last year alone. I think diversifying across all these different verticals offers a lot of opportunities to our employees, as there are amplitudes of opportunities regardless of which direction you decide to go. It's great to have the support of such an incredible company.
LeafFilter: And what goals does the Fayetteville team have?
Larry: Growing! We're still new, but we're getting bigger. No excuses. I look at more established offices and use them as inspiration – certainly, looking at their successes drives and inspires us, too. We're all really happy to be with LeafFilter. I personally can't think of anything else I would rather do. We focus on today, not tomorrow… but when tomorrow comes, I think it's going to be bigger and better. We can only go up from here.
LeafFilter truly has a culture like no other. From a TNT ("Today, not tomorrow") mentality to an interconnectedness that continues whether we work in-person or over video calls, LeafFilter's strength is not just in the quality materials it uses to produce the best gutter protection on the market… the company's true strength is the people working behind the scenes. Our team is growing every day, too! Check out opportunities near you on our careers page.